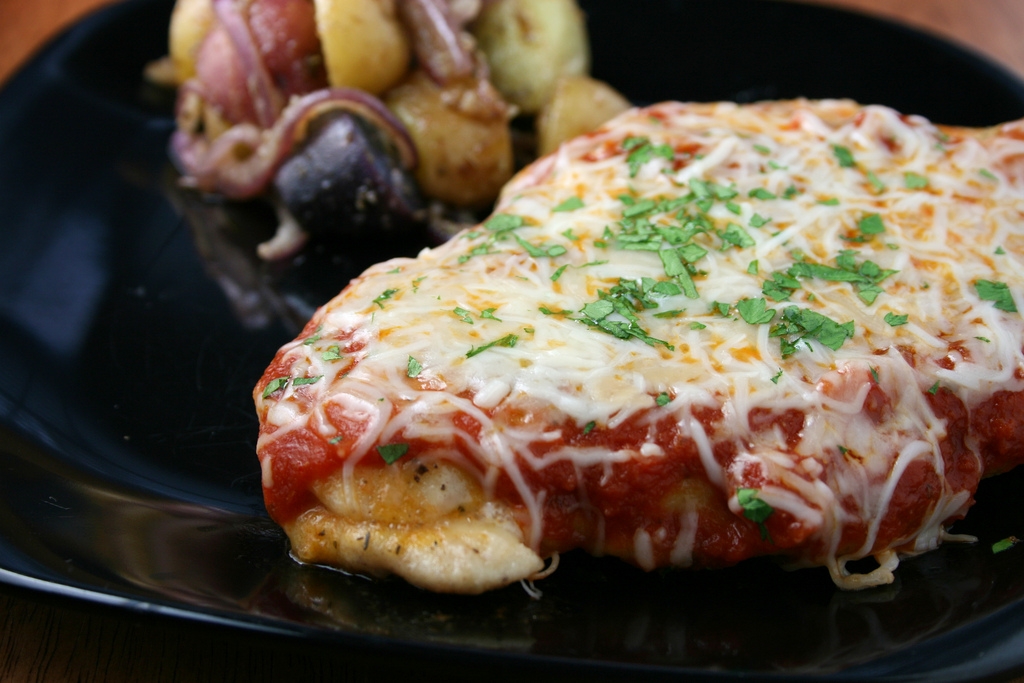 **Click HERE to like The Hungry Housewife on Facebook.**
Chicken Parmesan is my husbands favorite meal. Actually, my chicken parm is my husbands favorite meal. All nice a crispy from the breading and pan frying, served up with some of my out of this world mashed potatoes(I will post those at a different time). Totally unhealthy.
Am I on a diet? Did you not see my last post here or here ? I am obviously not on a diet. Do I have cellulite growing in places I have never seen before (my kneecaps)? YES. Have you ever seen cellulite actually grow "out" from your leg? You say no? Come on over, I will show you…it's quite interesting. Should I be on a diet? Yes. But I say the hell with it, life's too short to be all cute and skinny,to fit into all the darling clothes and to look good in a itty-bitty bikini.
But for my husband sake, I decided to lighten up my boo's favorite diner. His old ticker will thank me for it.
LIGHTENED UP CHICKEN PARMESAN
Printer Friendly Version
4 boneless, skinless chicken breasts, pounded thin
3/4 cup Flour
1 Tbsp Italian Seasoning
1/2 Tbsp Course Kosher Salt
1 tsp Pepper
2 Tbsp Butter
1 Tbsp Olive Oil
1 cup Homemade or Jared Spaghetti Sauce
1 1/2 cups Shredded Light Italian Cheese blend
Hand full of bail, chopped
Pre heat the oven to 350
Line a 9 x 13 pan with non stick foil (easier cleanup)
Place the chicken breasts into a Freeze Zip lock bag or between two sheets of cling wrap. Pound the chicken to about 1/4 thickness.
In a pie plate or regular plate, mix the flour, Italian Seasoning,salt and pepper together.
Coat each piece of chicken with the flour.
In a large skillet, over medium high heat, melt the butter and add the olive oil.
Saute each chicken breast until brown on each side. About 2 minutes per side.
Pour about 1/4 cup of the sauce into the bottom of the prepared pan.
Place the chicken in the pan and top with remaining sauce.
Top with cheese and basil.
Bake for about 20 minutes, or until an instant read thermometer reaches 175.
Here is my trick for pounding my chicken. I ALWAYS place it in a freezer gallon zip lock bag. This way non of the raw chicken cooties spray all over my kitchen!