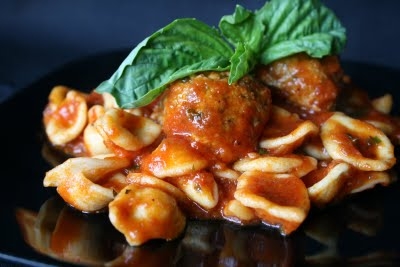 I am alive, well half alive. Still have sick house, but I couldn't keep away any longer.
K..I have 2 spaghetti sauce recipes. One that I have been making forever, that has a billion ingredients and now this one that has only a few ingredients. Which one is my favorite? Well I will have to say I pitched my 1st recipe(wiping a tear). My new recipe tastes like something you would get in a Italian Restaurant. You must try it. It is a simple yet delicious gravy. I do recommend getting the best crushed tomatoes you can find. Don't skimp people. Bad canned tomatoes can ruin a sauce, even making it taste like aluminum. I have found that
Tuttorosso
Crushed Tomatoes are wonderful and have the perfect acidity. And my new new favorite shaped pasta is,
Alessi Orecchiette
. Soooo yummy, however they do need to get on the ball and offer it in a whole grain version. The meatballs..oh the meatballs are melt in you mouth good. No seriously, they truly do melt in your mouth. One tip on meatballs, don't handle them too much or they will get tough. I just use my small Pampered Chef scoop to scoop out an equal amount of mix and lightly form into a nice ball.
Author:
Leslie Green - The Hungry Housewife
Prep time:
Cook time:
Total time:
A delicious and easy Spaghetti and Meatball recipe
Ingredients
Spaghetti Sauce
⅓ cup Regular Olive Oil
6 Cloves Garlic, Minced
1½ Spanish Onion, Finely diced
2 (28 oz) Cans Crushed Tomatoes
2 Beef Bones (ask your Butcher if you cant find them)
1 Teaspoon Salt
½ Teaspoon Pepper
½-3/4 Cup Red Wine
1 Bay Leaf
1 Large Handful Basil, Chopped
Meatballs
1 pound ground chuck
4 ounces dried bread crumbs
4 large eggs
4 ounces whole milk
6 ounces grated Romano
3 ounces grated Spanish onion
2 ounces finely diced fresh garlic
2 ounces finely chopped fresh Italian parsley leaves
2 ounces finely chopped fresh basil leaves
Instructions
Sauce
In a large pot, over medium heat, add the olive oil. Add onions and cook them until they begin to brown.
Add the garlic and beef bones and cook for an additional 2 minutes.
Stir in wine, allow to cook for 5 minutes.
Add tomatoes, salt, pepper and bay leaf.
Bring to a boil.
Reduce heat to low and simmer uncovered for 1 hour.
Add meatballs during last ½ hour of cooking. Just prior to serving, stir in basil.
Meatballs
Preheat oven to 350 degrees F.
Spray a baking sheet with olive oil cooking spray.
Mix all ingredients thoroughly in large bowl. If mixture seems a little loose add more bread crumbs.
Roll meatballs loosely about the size of a golf ball and place on baking sheet. Place into preheated oven for about 35 minutes. Remove and add to sauce if desired.
Serve over your favorite pasta
Notes
Meatball recipe from The Food Network