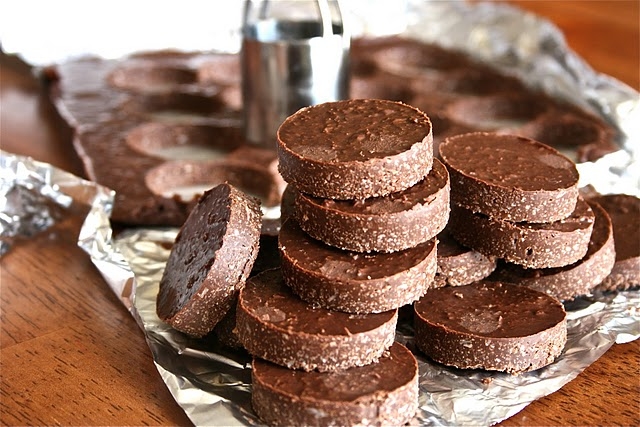 Say that one fast three times. Coconut Cocoa Crisps, Coconut Cocoa Crisps, Coconut Cocoa Crisps.
Ok, so it wasn't that hard, but there sure are a lot of "C's".
For us girls in the child rearing years, PMS rolls around once a month and takes over us like a three headed monster. Sorry boys, we really have no control over our attitude, our complete beeotch-iness. We really do feel sorry for our terrorizing actions, our ear piercing yelling rages and our general ability to make the house a living hell for a week. I believe I can apologize for all women alike, right ladies?
You know what can tame the beast for at least a few moments? CHOCOLATE. Chocolate in any form.
That is how these Coconut Cocoa Crisps were born. I needed some PMS medicine. These work quite well.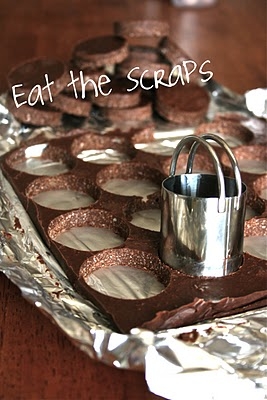 COCONUT COCOA CRISPS
Printable Friendly Version
12 oz Good Quality Semi-Sweet Chocolate
1 Tsp Peppermint Extract
1 1/4 cup unsweetened Coconut, finely shredded. I use the Let's Do Organic Brand
Line a 8 x 8 square pan with non stick foil. Or spray foil with non-stick spray.
In a medium bowl, melt chocolate in the microwave in 30 second intervals. Stir in between each 30 second period. When melted, stir for a few minutes until it slightly cooled and it becomes shiny.
Add the coconut and peppermint extract. Stir until combined.
Scoop the chocolate mixture into the lined pan and evenly spread out.
Hold the pan a few inches above the counter and drop on the counter a few times to get any air bubbles out.
Place in the fridge for about 30 minutes. Remove and use your desired shape cookie or biscuit cutter to cut out your treats.
Store the the refrigerator ,separated by wax paper in an air tight container.