Do not forget to enter my Chocolate Giveaway!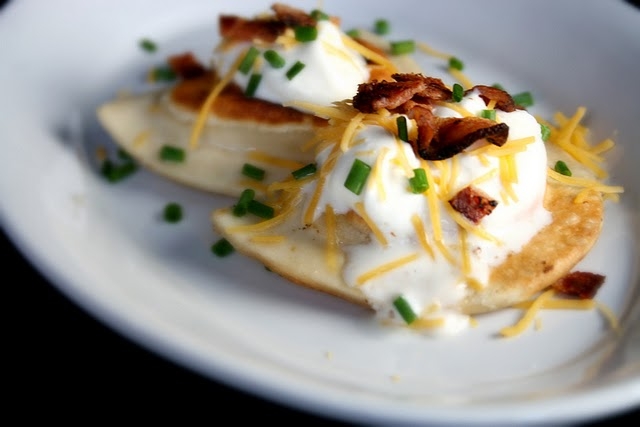 That's right. Loaded Pierogies, My take on loaded potato skins.
I "tested" this recipe before that big football game that just passed in which the team that is now dead to me lost. They are the perfect little appetizer. And mighty tasty I might add.
Have you had pierogies? They are Polish dumplings filled with all sorts of things. My favorite… filled with potatoes and cheese.
You can make your own, but good luck with that. I hear they are a pain to make. My Mom always bought Mrs.T's (no relation to "Mr. T") in the freezer section. So I do the same. They make my life so much simpler. There is really not much of a recipe, kinda self explanatory, but I will throw one up just for s*its and giggles.
LOADED PIEROGIES
Printer Friendly Version
Serves 3- 2 pierogies per person
6 Pierogies-
2 Tbsp Butter
2 Cloves of Garlic
Salt- a nice pinch
Pepper- a nice pinch
6 Tbsp Creme Fraiche or sour cream
3 slices of Cooked bacon, crumbled
1/2 cup Shredded Cheddar Cheese
1/4 cup Chopped Chives
In a large skillet over medium heat melt the butter. Add the pierogies. Sprinkle the salt and pepper over the pierogies. Cook for about 4 minutes on each side. When the pierogies have about 30 seconds left add the garlic. Sauté until garlic becomes fragrant.
Remove the pierogies from the skillet.
Top each pierogie with 1 Tbsp of Creme Fraiche or Sour Creme, then the bacon,cheese and chives.
Enjoy