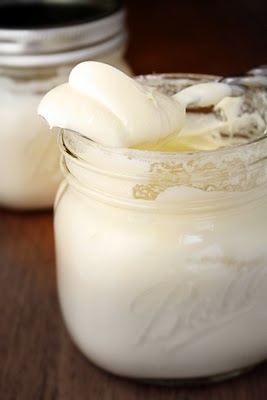 BLOG REDESIGN HAPPENING AS WE SPEAK, so hopefully we wont have much longer with this dreaded gray background!
There are two things that I always have in my fridge, buttermilk and heavy cream. I don't fit in my jeans? hmmm wonder why. Anyway, when I go to the grocery store I seem to often forget to pick up sour cream. Why, I don't know. Maybe the "Do the dollop of Daisy" commercial annoys me and I turn my head when I walk by the sour cream. Who knows what goes on in my demented mind.
So, do you have a sour cream forgetful mind? Have no fear Crème fraiche is here.
What is this you say, some fancy french word on The Hungry Housewife blog. I know, I know, I am sorry. 
Crème fraiche is a french word meaning fresh cream. However, it is anything but "fresh" cream. It is actually soured cream.  And you, yes you can make it at home, cause try to find it at your local grocery store…ain't happening in these parts.
Crème fraiche can be substituted for sour cream in any recipe. They taste VERY similar, however Crème fraiche is not as sour. And you wanna know the best part??? It does not curdle. So go ahead and throw it in your slow cooker, go ahead and throw it in your hot sauce in the saucepan…no lumps!!! You can also sweeten it and serve it over fresh fruit…yum. And since it is made from heavy cream, you can whisk it and make a nice thick whipped cream texture.
You need TWO ingredient and 15 seconds to pour it in a glass jar and then 8-24 hours of resting time. Thats it! Now you can always have some highfalutin Crème fraiche on hand.
8 oz Heavy Cream (not ultra pasteurized)
Pour the heavy cream in a glass jar with a lid (like a mason jar) add the Buttermilk.
Stir, lightly cover and let it sit out on the counter for 8-24 hours. It is done when it is the consistency of sour cream. Stir. Cover tightly. Keeps in the fridge for 7-10 days.
*You can use ultra pasteurized heavy cream, but it might take longer to set up. I have also used Ultra Pasteurized Heavy Whipping cream and it works fine*