By now we all have heard about me almost not making it to the Frito-Lay Flavor Kitchen.
I have taken you on a tour of the kitchen.
And today I am going to share with you my new friends.
Left to right. Leslie(me), Michelle and Joelen

My girls..
Yep, that is me on the left looking like a giant and I am only 5′ 3″. The cutie pie in the middle is Michelle of Domestic Mama of The Village Cook. And the lovely lady on the right is Joelen of What's Cookin, Chicago? I just adore these two girls and I am so very glad we shared this experience together.
We got to get all pretty and pampered.
We had a full day of filming.  We had many laughs and sore feet.
Everyone involved in the day was great.  A big shout out goes to the folks at Time inc..Melinda Russel, Julie Christeas, Don Struckle, Jennifer Zawadzinski, Dawn Bar and Stella Araya-Weil.
Thank you to ChristineAllen and Chef Stephen Kalil of Frito-Lay
And a huge thank you to the ever so patient film crew Matt, Pete and Colin and director Thom Higgins.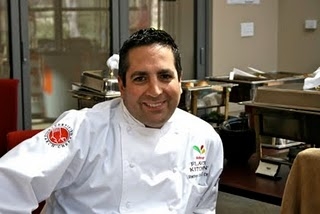 Chef Stephen Kalil
Want to read about the talented chef..click here
We had a delicious Italian dinner.
Me getting my Texas on!
We should have the video segments we shot here shortly to view. I will share them with y'all as soon as I get them!!!