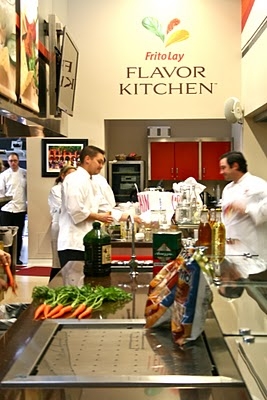 See that above? It is the AMAZING Frito-Lay flavor kitchen. That I almost didn't get to see.
Here's the story.
2 issues. 1) I am blond and 2) I am blond
Picked up at my house by a driver in a nice shiny black Cadillac Escalade. (Frito treats us GOOD)
Get dropped off at Tampa International.
Get on the Southwest flight to DALLAS.
Fly.
Plane lands.
I get off.
I go to the luggage area and wait for my cute red leopard print bag to emerge from the baggage spitter outter.
20 minutes passes and no bag yet. I check the overhead monitor..yep, Southwest Flight from Tampa. That's me. People come and go. No bag still. Strange.
35 minutes minutes later. A lone grey bag continues to go around and around on the bag spitter outter belt. But my unmistakable bag has not appeared. I look around and everyone else is gone.
The only person in sight was a man in a suite holding a sign. I thought, it might be my driver, so I go up to him to read his sign. I asked him if he was there to pick me up. He said no and asked what driver company I was looking for. I had no clue, so I showed him my itinerary.
He pointed to my paper and said, You are in Houston.
WHAT???
I was baffled for a moment. I knew I was supposed to be in DALLAS. But he said I was in Houston.
OHHHH SH*T! Body goes numb.
I got off the plane at the first stop in Houston when I was supposed to stay on and complete the last hour to Dallas.
Oh God, Oh God, Oh God.
Panic mode.
I sprint, like an olympic athlete to the first info counter I see.
I try to get my words out, but I was sooo out of breath from my 4.2 second mile I was running, the poor lady couldn't understand what I was sputtering out of my mouth.
"Slow down honey, whats a matter?"
Me.."I…Gottttt….Offff…The …plane when I wassssn't suppo-sed too" (me short of breath)
Panting…"What should I doooo?"
"oh, honey..you need to go to ticketing."
Full blown panic attack ensues.
Again, sprinting like Flo-Jo, I arrive at the ticketing counter.
6 people are in line in front of me. My parents taught me manners, so I dare not dare ask anyone to skip them in line. I pace and pace and pace. Finally I get called up to the counter.
Still out of breath, I tell the ticket lady my ridiculous blond issues. She calls the terminal.
She says, "the doors of the plane are now closed."
"NOOOOOOOOOOOOOOOOOOOOOOOOOOO" I cry out in the most pathetic pleading tone.
I suppose the person heard me on the phone and said, "she has 5 minutes to get to the plane."
Sprinting, yet again.
I had to go through security again..they were quite suspicious of me running up to them foaming at the mouth, yanking my jewelry and shoes off. Had to tell them my story too. God, how many times do I have to repeat my total lack of travel ability?
They let me through security.
Run, run ,run.
I get to the terminal 40 minutes after the plane landed.
The ticket taker looks at me with the "tisk, tisk, tisk" look on his face.
As I walk on the plane, sweat rings forming under my arms, the flight attendant gets on his little plane announcement speaker and announces…
"Look who has decided to join us……Mizzz Green"
OMG, are you serious? I know Southwest flight attendants like to be funny, but did he just call me out like that???? My face turned bright red. Everyone was glaring at me fanning their faces with their sky mall magazines. I guess it gets hot on planes when they are waiting on the tarmac for 40 minutes for a dumb blond!
I did make it to the Frito-Lay flavor kitchen. More on that in my next post.
Oh, and Southwest ROCKS!!!! Not many airlines would hold a flight for someone!!!