Beans..beans the more you eat, the more you…..whaaa? I'm an adult? Oh, ok. I'll stop.
Seriously though, I don't think we eat enough beans in general. They are soooo good for you.
They have virtually no fat and zero saturate fat. They are also high in fiber and protein.
[rss-cut}
Dried beans sometimes get over looked. People go the "convenient route" and grab a can of beans. Not that there is anything wrong with canned beans, but dried beans are just as easy. Some beans just require a little bath in some boiling water for a bit, like the recipe I created below.
Of course I choose Hurst's Great Northern Beans.
Don't forget to take a peek at my other recipe I developed for Hurst's Beans….Split Pea with Ham and Bacon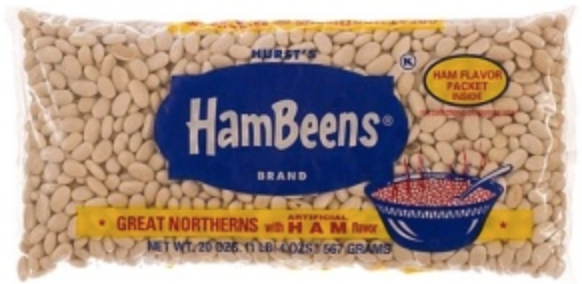 Chicken and Beans
Author:
Leslie Green - The Hungry Housewife
Recipe type:
Dinner, main
Prep time:
Cook time:
Total time:
Chicken and Beans with tomatoes and spinach.
Ingredients
1¼ cups Hurts's Great Northern Beans (1/2 package of a 20 oz bag, save the remaining beans and seasoning for a later use)
1½ lbs. Boneless, skinless Chicken Breasts, dried with paper towels
1 stick butter, softened
2 tablespoons fresh Parsley, finely minced
1 teaspoon fresh Sage, finely minced
1 teaspoon fresh Thyme, finely minced
1 teaspoon fresh Rosemary, finely minced
¼ teaspoon Coarse Kosher Salt
2 tablespoons Extra Virgin Olive
Salt and Pepper to taste
1 pint Cherry Tomatoes, halved
4 cloves garlic, finely chopped
3 oz. fresh Baby Spinach (1/2 of a 6 oz. bag)
Instructions
In a medium stock pot, cover the beans with 2" of water, bring to a boil. Reduce heat to a simmer, cover and cook for 1½ hours.
Preheat oven to 400.
Drain beans and place in a 9 x 13 pan. Season beans with olive oil, salt and pepper, toss to incorporate.
In a small bowl, mix together butter, parsley,sage,thyme,rosemary and ¼ teaspoon salt.
Rub the chicken breasts with the herbed butter mixture.
Add the chicken to the top of the beans.
Arrange the tomatoes and garlic around chicken.
Bake for 40 minutes or until juices run clear and internal temperature reaches 165 degrees.
Remove chicken to a plate, cover with foil to keep warm.
Add spinach to hot beans and toss several times to wilt.
Return chicken to pan and serve.
**I was compensated by Hurst's Bean Company for recipe development, however all opinions are 100% mine.**