Quick…
What is the first thing that comes to mind when you hear the words…
Split Pea Soup?

The Exorcist?
Yep me too.
Poor split pea soup.  It's long been associated with that horrible movie. I tried watching it through the slits of my fingers that covered my eyes many, many, many times. Never made it through the whole movie.
Really I do feel bad for Split Pea Soup because it is one of my favorite soups of all times and it is ridiculously easy to make.
Nooo, I don't mean using a can opener and plopping the soup out of a can.
You have to start off with some good dried Split Peas.
My choice has always been and will always be Hurts Beans. Hurst beans is a family owned and operated business that was started way back in 1938 and they have been packaging beans right in downtown Indianapolis since 1947.
I have a soft spot for family owned and operated businesses since we own one ourselves!
Go show them some love on their Facebook page!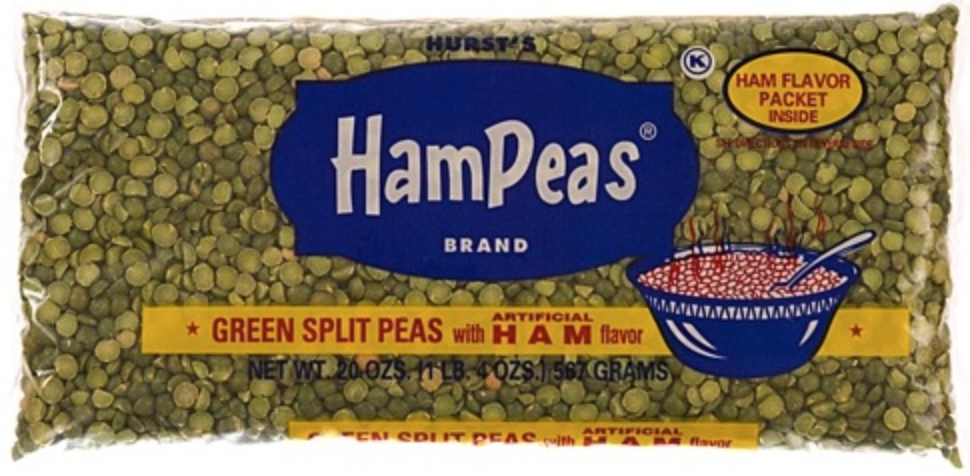 ---
Split Pea Soup with Ham and Bacon
Author:
Leslie Green - The Hungry Housewife
Prep time:
Cook time:
Total time:
Split Pea Soup with Ham and Bacon
Ingredients
1 tablespoon Extra Virgin Olive Oil
1 medium Red Onion, finely chopped
4 oz Bacon (about 5 slices), finely chopped
1 tablespoon Fresh Thyme Leaves, finely chopped
2 Garlic Cloves, minced
7 cups Chicken Stock
2 cups Cooked Ham, chopped into very small bite sized pieces
1 package Hurst's Ham Peas-Green Split Peas, rinsed, discard flavor packet and keep for later recipe
Instructions
In a large pot (5 or more quarts), heat olive oil over medium heat.
Add onion, and bacon. Cook for 10 minutes. (Do not drain bacon fat)
Add thyme and garlic and cook for an additional 30 seconds.
Add chicken stock, ham and split peas.
Bring to a boil, reduce heat to low and cook covered for 45-60 minutes, stirring occasionally.
Salt and pepper to taste.
**I was compensated by Hurst's Bean Company for recipe development, however all opinions are 100% mine.**