Preparing a wholesome and delicious dinner every day is a challenge many busy families face. Between getting our kids ready for school and taking them to their nightly activities, we barely have time to squeeze in dinner together as much as we'd like. To be honest, many weeknights are a bit of a blur at our house! I'm excited to announce I'm participating in the Weeknight Wins by Sauté Express® Sauté Starter Blogger Challenge from Land O'Lakes.

Here's how it works:
Each week, four fabulous bloggers and I will be issued a challenge topic about the daily hurdles many moms face when preparing dinner.
The bloggers post their recipe idea on their blog, and pin to our Pinterest Board about Weeknight Wins. This challenge should give us all some great options for those crazy weeknights!
Along with the recipes I'll be sharing on The Hungry Housewife, you can follow the challenge on Pinterest and pin your favorite recipes. Of course, you can pin more than one of your favorite ideas! Check it out over at the Weeknight Wins by Sauté Express® Sauté Starter Pinterest Board.
Plus, each week there will be a sweepstakes to enter. Read more below about how to enter for a chance to win a Weeknight Wins prize pack!
The first Challenge this week is "Please Your Picky Eater." This topic is super relevant for my family. As a recipe developer and food blogger I get asked two specific questions all the time…
1) Why don't you weigh 350 pounds? (Everyone seems to use this number!)
2) Do your kids eat everything you make?
Answer to Q1: Ha. I have gained lots and lots of weight since starting my blog.
Answer to Q2: Ha, again. I have the pickiest eaters on the face of the planet. I swear.
My kids used to eat everything I put in front of them when they were babies, but as they have grown, they have lost their taste buds. When I make my weekly menu and ask them what they want for dinner this week, I always get the same four requests from the kids over and over: tacos, hamburgers, pizza, pasta. Uggggg, anyone else in the same boat? It's very frustrating. I am tired of all of those things.
Pizza, I can do. But, again, it gets boring because all the kids want is cheese pizza. I was challenged by Land O'Lakes to create an easy weeknight meal with their new Sauté Express® Sauté Starter that even my pickiest eaters would love. Have you seen this new GENIUS product? I am in love, seriously.
When I first read about the product, I thought, "Ok, they mixed some olive oil, butter and spices together. I do that all the time in my skillet." But let me tell you, these little delicious miracle starter squares are AHHHH-mazing! You melt them in the pan, add your protein and BAM…. a perfectly seasoned dinner! Just look at all the Italian seasonings in the pan.
I decided to please my two picky eaters by mixing up our normal boring pizza night. No more round, classic cheese pizza. My idea for "Please Your Picky Eater" is Chicken Pizza Pockets. These fun pizza pockets are super kid-friendly and put a fresh twist on pizza night!
I used one Italian Herb Sauté Express® Sauté Starter square in a skillet, added my chicken, licked the spoon and chopped the chicken to add it to my fancy pizza pockets.
Roll the pizza dough out and cut into fourths.
Add some pizza sauce (homemade or store bought).
Sprinkle on the cheese and chopped chicken.
Fold the pizza dough over onto itself and pinch the edges to seal.
Lightly brush the dough with an egg wash and Italian Seasoning and pop them in the oven.
Viola, simple, quick and easy dinner.
The Sauté Express® Sauté Starter added pizzazz to the chicken, without adding any extra steps to the cooking process!
It's sweepstakes time so you can try this at home!
One winner will win four coupons for Sauté Express® Sauté Starter, a set of six divided dinner plates, a set of dish towels and a Le Creuset Cast Iron Skillet.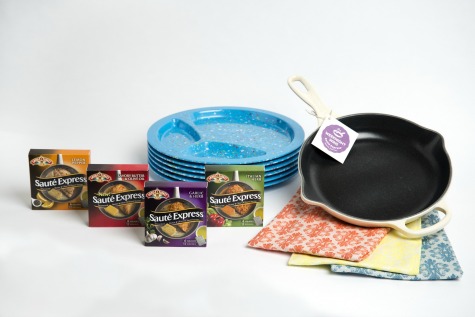 Now, share your idea for Pleasing Picky Eaters for a chance to win the Sauté Express® Sauté Starter Picky Eater Prize Pack.
Bonus: Tell me what you would make using Sauté Express® Sauté Starter to Please Your Picky Eater. Each week, Land O'Lakes will also pick a few of favorites, which will be featured on Land O'Lakes Weeknight Meals Pinterest Board. *When you enter, Land O'Lakes may select your comment to feature for promotion, social media and/or other related marketing materials.
GIVEAWAY CLOSED
Here's how to enter–> Simply leave a comment below answering one of the following questions:
What is your weeknight win to please a picky eater? 
OR
What would you make with Sauté Express® Sauté Starter? 
Enter The Weeknight Wins by Sauté Express® Sauté Starter Sweepstakes

Details
Open to legal U.S. residents 18 years and older. No purchase necessary to enter or win. One entry per person (that includes email address & IP address) per day. Required information is first & last name and valid email address. Entries obtained by mechanical or spamming mechanisms will be disqualified. One winner will be chosen at random from all of the qualified entries submitted. Sweepstakes ends on Friday, April 5, 2013 at 11:59 PM EST. Winner will be contacted via email supplied in the entry & will have 48 hours to respond or another winner will be chosen. Approximate retail value of prize: $150
Sweepstakes is sponsored by Land O'Lakes. The Hungry Housewife and the sponsor reserve the right to cancel the sweepstakes at any time. Contact The Hungry Housewife for winner list or with any questions. By participating in this Sweepstakes, you agree to be bound by these rules and the decisions of the Sponsors, which shall be final. All federal, state, and local laws apply; void where prohibited.

Chicken Pizza Pockets
Author:
Leslie Green - The Hungry Housewife
Recipe type:
Dinner,lunch
Prep time:
Cook time:
Total time:
Ingredients
½ lb. (1) boneless skinless chicken breast
1 Italian Herb Sauté Express® Sauté Starter square
1 lb. fresh pizza dough (can purchase from your bakery) or 1 can refrigerated pizza crust
1 cup pizza sauce, divided
1 cup (4 oz.) mozzarella cheese, shredded
1 egg, lightly beaten
Italian seasoning to taste
Instructions
Preheat oven to 400 degrees. Line a cookie sheet with parchment paper.
In a medium non-stick skillet with a lid, melt Sauté Express® Sauté Starter over medium-low heat until it starts to bubble.
Add chicken and cook for 6–8 minutes per side with lid on or until no longer pink in the middle. Chop into small bite-sized pieces.
While chicken is cooking, roll out pizza dough into a 12″ circle on a lightly floured surface. Using a pizza cutter, cut the dough into fourths (four triangles), and place on cookie sheet.
Evenly distribute ½ cup pizza sauce, cheese and chicken over each triangle, leaving about ¼–½ inch clean edge.
Fold dough over and pinch the edges to seal. Lightly brush with egg wash.
Sprinkle with Italian seasoning and bake for 15–18 minutes or until golden. (*If you used the pizza crust from the can, follow baking instructions on the package.)
Serve with remaining ½ cup pizza sauce.
Disclosure: I've partnered with Land O'Lakes for an exclusive endorsement of Sauté Express® Sauté Starter. This blog post is sponsored by Land O'Lakes. All opinions are my own.
CONTEST WINNER : Melissa C