Macaroni and cheese, an old favorite in these parts. I don't think two words go together better than "cheese" and "macaroni."
I'm pretty sure mac and cheese is one of the first things I learned how to cook as a kid. Now, I am not talking about the microwave, powdered-cheese variety, I'm talking about the REAL DEAL. No, powdered cheese and no processed bright yellow cheese substance. Making real mac and cheese is really, really easy. All it takes is some flour, butter, milk, cheese and pasta. THAT. IS. IT!


Preparing a wholesome and delicious dinner every day is a challenge many busy families face. Some nights, you may have to cut corners in the kitchen. I get it! But on other nights, you can whip up a homemade dinner in 30 minutes or less! This April, I'm participating in the Weeknight Wins by Sauté Express® Sauté Starter Blogger Challenge from Land O'Lakes. In case you missed my post last week, I will be posting about easy Weeknight Wins with four other food bloggers. You can repin your favorite go-to recipe ideas for each challenge from our Pinterest Board. Plus, each week there will be a new sweepstakes to enter. Read more below about how to enter for your chance to win a Weeknight Wins prize pack!
This week's challenge is "A New Twist on an Old Favorite." Land O' Lakes challenged me to take one of my all-time favorites and mix it up a bit with their newest cooking innovation, Sauté Express® Sauté Starter. This is a first-of-its-kind seasoned butter and olive oil starter that can be used to cook and season any protein, such as chicken, fish or pork, in one easy step. My favorite recipe idea with a twist is Chicken and Broccoli Macaroni and Cheese.
While I could probably live on the cheesy pasta for the rest of my life, I wanted to make it more of a complete meal. One with a li'l oomph. But I didn't want to make too much of a fuss or add cooking time. I am busy, and I know you are too, so I am sure you can appreciate a quick dinner.
Cooking my chicken in the Savory Butter and Olive Oil Sauté Express® Sauté Starter gave it a wonderful flavor, and I didn't have to spend more time gathering more spices and seasonings. All I needed was Sauté Express® Sauté Starter to cook and flavor the chicken.
Now, my all-time favorite dish is more of a complete meal with the addition of the chicken and broccoli. And it's all cooked in just 30 minutes.
It's prize time!
Share your idea for a new twist on an old favorite for a chance to win the Sauté Express® Sauté Starter New Twist Prize Pack.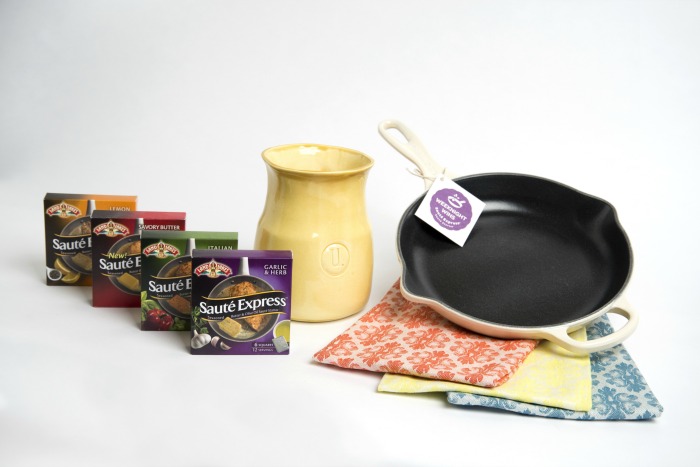 Bonus: Tell me what you would make using Sauté Express® Sauté Starter for a new twist on an old favorite. Each week, Land O'Lakes will pick a few favorites to be featured on Land O'Lakes Weeknight Meals Pinterest Board. *When you enter, Land O'Lakes may select your comment to feature for promotion, social media and/or other related marketing materials.
To enter, simply leave a comment below answering one of the following questions:
CONTEST CLOSED
What is your idea for a new twist on a go-to recipe?
OR
What would you make with Sauté Express® Sauté Starter?
Enter The Weeknight Wins by Sauté Express® Sauté Starter Sweepstakes
Details
Open to legal U.S. residents 18 years and older. No purchase necessary to enter or win. One entry per person (that includes email address & IP address) per day. Required information is first & last name and valid email address. Entries obtained by mechanical or spamming mechanisms will be disqualified. One winner will be chosen at random from all of the qualified entries submitted. Sweepstakes ends on Friday, April 12, 2013 at 11:59 PM EST. Winner will be contacted via email supplied in the entry & will have 48 hours to respond or another winner will be chosen. Approximate retail value of prize: $150. Sweepstakes is sponsored by Land O'Lakes. The Hungry Housewife and the sponsor reserve the right to cancel the sweepstakes at any time. Contact The Hungry Housewife for winner list or with any questions. By participating in this Sweepstakes, you agree to be bound by these rules and the decisions of the Sponsors, which shall be final. All federal, state, and local laws apply; void where prohibited.
Disclosure: I've partnered with Land O'Lakes for an exclusive endorsement of Sauté Express® Sauté Starter. This blog post is sponsored by Land O'Lakes. All opinions are my own.

Chicken and Broccoli Macaroni and Cheese
Author:
Leslie Green - The Hungry Housewife
Recipe type:
Dinner, main
Prep time:
Cook time:
Total time:
Chicken and Broccoli Macaroni and Cheese
Ingredients
1 lb. elbow macaroni
1 lb. boneless skinless chicken breasts
2 squares Savory Butter & Olive Oil Sauté Express® Sauté Starter
12 oz. microwavable broccoli florets
5 tablespoons butter
6 tablespoons flour
1 teaspoon dry mustard powder
⅛ teaspoon pepper
4 cups whole milk
8 oz. sharp cheddar cheese, shredded
8 oz. Monterey jack cheese, shredded
Salt

Crumb Topping
1 cup Italian bread crumbs
3 tablespoons butter, melted
Instructions
Adjust oven rack to middle position and preheat oven to high broil.
In a large stock pot bring 4 quarts of water to a boil and add macaroni, boil for 9–11 minutes, drain and put back into stock pot.
While pasta is boiling, cook broccoli in the microwave per package directions. Lightly chop and set aside.
In a medium nonstick skillet with a lid, melt 2 Sauté Express® Sauté Starter squares over medium heat, and add chicken. Cook for 6–8 minutes per side over medium-low head with the lid on, or until no longer pink in the middle. Remove and chop chicken into bite-sized pieces, set aside.
While the chicken is cooking, make the cheese sauce. In a medium pot over medium heat, melt butter, add flour, dry mustard powder and pepper, whisk for about 1 minutes or until flour starts to darken.
Slowly whisk in the milk and whisk until smooth. Bring to a full boil while whisking. Remove from heat and stir in cheeses, stir until smooth. Salt to taste.
Pour the cheese sauce into the noodles and mix until incorporated. Fold in chicken and broccoli. Pour into a 9x13 casserole dish.
In a small bowl, mix together bread crumbs and melted butter, sprinkle over macaroni and cheese. Place in oven and broil for 3 minutes or until golden brown. Serve.