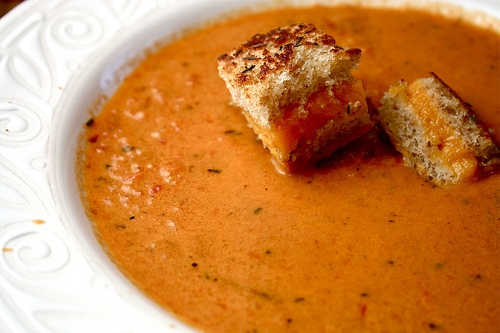 *Don't for get to enter my giveaway for 4 signed copies of Rocco Dispiritos New Cookbook. Click HERE to enter.
I am so terriable sorry that I have kept this recipe from you. I was going through my iphoto and saw this tomato soup photo from Jan 19th, 2009. It's ok to call me a slacker. I have accepted it.
Well I must say that I am even surprised that I made this soup in the first place.
You see, I have been a life long tomato soup hater.
I remember when I was young, my Mom would fix my sister tomato soup. Campbells Tomato Soup.
She would mix it with water and sometimes milk. I was always a little bit jealous, because she always got a nice topping..maybe some crackers or a dollop of sour cream.  I had to eat Mrs. Grass chicken noodle soup..but at least I got to throw in the golden nugget egg thingy. Ohhh the excitement.
So over the years I have given tomato soup a few chances. They do say your taste buds change every 7 years. I even upgraded from the concentrated soup variety to the soup that does not require an extra can of water. But nope, still never liked it.
Why did I make this recipe? Humpf, your guess is as good as mine. But I tried it and LOVED IT.
Hallelujah..I am cured!
So if you too avoid tomato soup, give it another shot with this recipe. It is so fresh and delicious!
Oh, and the grilled cheese croutons they were, well, a perfect touch!
ROASTED TOMATO SOUP with GRILLED CHEESE CROUTONS
Printed Friendly Version
Makes about 10 cups
3 pints Cherry Tomatoes
3 Tbsp Olive Oil
1 tsp Salt
1/2 tsp Pepper
2 Tbsp Unsalted Butter
2 Cloves Garlic, minced
1 Cup Chopped Onion
1 (28oz) Can Diced Tomatoes
4 Cups Chicken Stock or Broth
1/2 tsp thyme
1 cup Whipping Cream or you can even use 1 cup evaporated milk to lighten it up
Heat the oven to 400. On a baking sheet, combine the cherry tomatoes,  2 Tbsp olive oil salt and pepper. Toss to coat tomatoes. Roast the tomatoes for about 45 minutes, stirring every 15 minutes or until the are getting shriveled and have brown spots on them.
In a large stock pot, melt the butter and the remaining tablespoon of olive oil over medium heat Add the onions and cook until softened. Add the garlic and cook for an addition minute. Add the canned tomatoes(and juice from the can)  chicken stock, thyme and the roasted tomatoes. Pour any of the liquid from the roasted tomatoes into the pot as well. Bring the soup to a boil, reduce the heat and simmer, partially covered for 40 minutes. Stirring occasionally.
Allow the soup to cool a bit. Using a food processor or a blender, puree the soup until smooth.
Return it to the pot and add the heavy cream or evaporated milk. Warm the soup again without letting it boil. Add more salt or pepper if needed.
GRILLED CHEESE CROUTONS


Softened Butter
1/4 tsp Thyme
6 slices Whole Wheat Bread
3 Slices of your favorite Cheese
Heat a medium skillet over medium high heat.
Combine the thyme and butter in a small bowl.
Spread one side of each slice of bread with the thyme butter.
Add 3 slices of bread into the pan, buttered side down. Top with cheese. Top with additional buttered bread, buttered side up. Cook for 3-5 minutes on each size.
Allow to cool slightly and cut into strips or 1 " squares.
Recipe From FAMILY FUN.