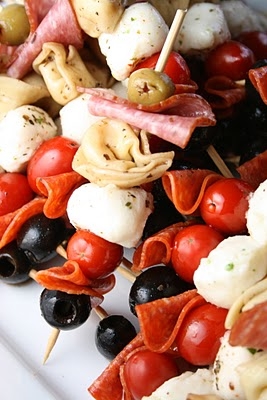 TWO POSTS IN TWO DAYS??? Yeah, don't get used to it.
Again, being Mrs. Responsible and putting up some Super Bowl related yummies for you to make.
I made these for My Brother-In-Laws little birthday shin-dig. I was afraid they were a bit fancy and wouldn't get eaten, but to my surprise, everyone loved them. There are no less than 5,975,091 recipes for these on line, the possibilities are endless. Get whatever you want, poke a stick through it, and viola.. instant appetizer.
GOOOOOO STEELERS!
ANTIPASTO KABOBS
Printer Friendly
1  9 oz package of Three Cheese Tortellini ,(I used Buitoni )cooked to package directions
1 can Medium or Large pitted Black Olives
1 5.75 oz jar Green Olives
2 12 oz containers of marinated mozzarella balls(usually found near the speciality cheeses)
30 slices of Salami, cut in half
60 pieces of pepperoni
1 cup Balsamic Vinaigrette Salad Dressing (store bought or homemade), I used Paul Newmans( he and   my Dad used to race cars together)
60 Skewers   How ever many you want to make. I had to cut mine in half
Place the cooked tortellini in a bowl or large gallon freeze bag. Pour the salad dressing over the top and marinade in the fridge for a few hours.
Drain the pasta.
Place one of each item onto the skewer using the pointy side.
Can be made a few hours in advance. Just cover tightly and place in the refrigerator.