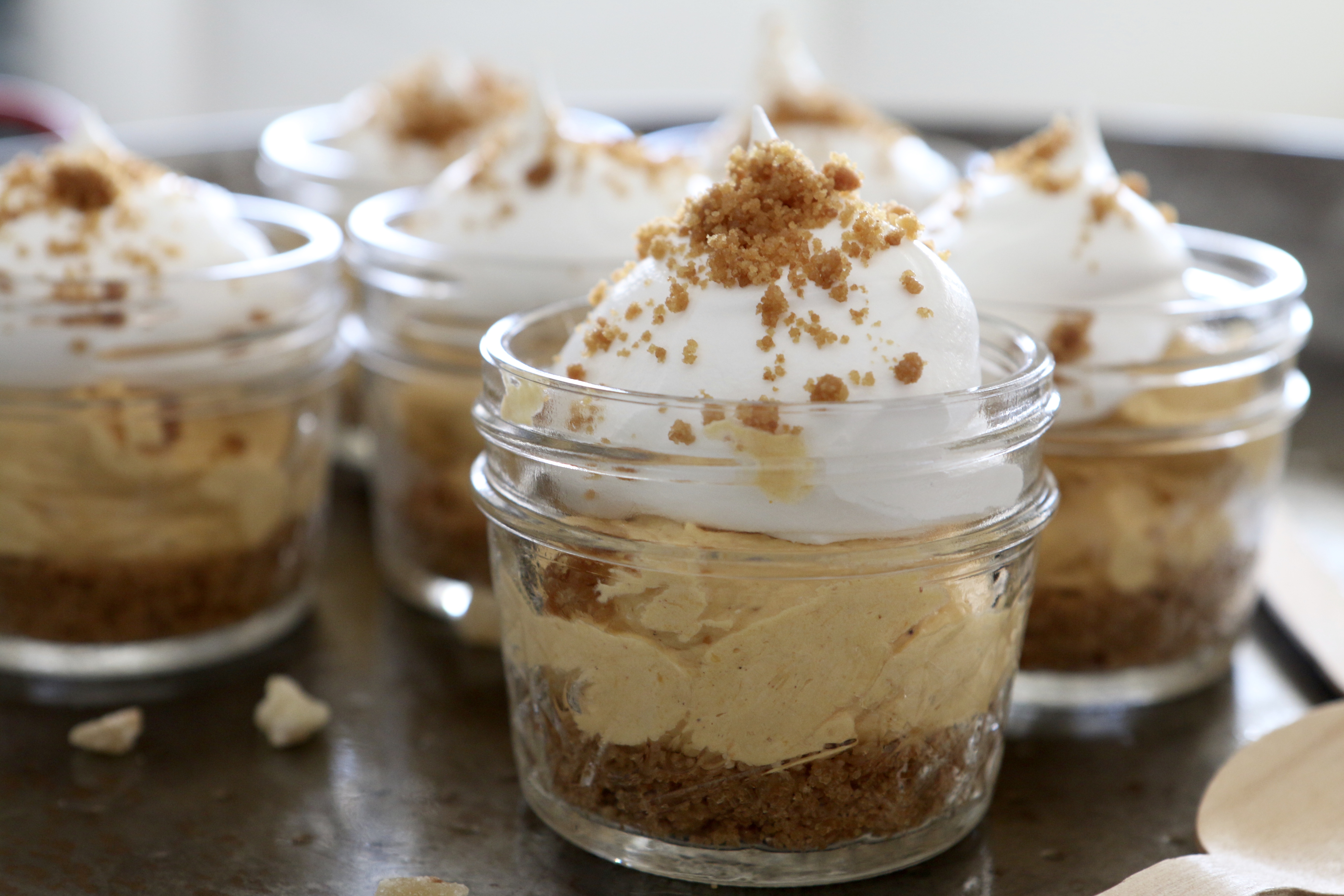 Mini No Bake Pumpkin Cheesecakes
Author: Leslie Green - The Hungry Housewife
Prep time: 15 mins
Total time: 15 mins
A fun mini no bake pumpkin cheesecake recipe.
Crumb Crust
34 Gingersnap cookies (this will be 1 1/ 2 cups crushed)
5 tablespoons butter, melted
Filling
1- 8oz. package Cream Cheese
2 tablespoons Instant Cheesecake Jell-O pudding mix(optional)
1½ teaspoon Vanilla Extract
½ teaspoon Pumpkin Pie Spice
1 cup Pumpkin Puree
12 oz. tub Cool Whip (divided)
Crumb Crust
Place cookies in a blender or food processor and pulse until you reach sand texture.
In a medium bowl, add crumbled cookies and melted better, Mix until incorporated.
Place 1 1/ 2 tablespoons cookie mixture into bottom of mason jar or container you are using. Pat down with fingers. Set aside. (reserve any extra crumb for garnish)
With an electric mixer in a large bowl, mix cream cheese until smooth.
Mix in pudding mix, vanilla extract, pumpkin pie spice and pumpkin puree, mix until incorporated.
Fold in 1 1/ 2 cups Cool Whip.
Scoop into a gallon storage bag. Snip about ½" off one bottom corner.
Pipe the pumpkin filling over the top of the crumb filling prepared jar. Fill ¾ full.
Top with remaining Cool Whip.
Sprinkle some crumb mixture to top for garnish.
I used 12 4oz Mason jars for this recipe.
Recipe by
The Hungry Housewife
at http://www.thehungryhousewife.com/2016/10/mini-no-bake-pumpkin-cheesecakes.html