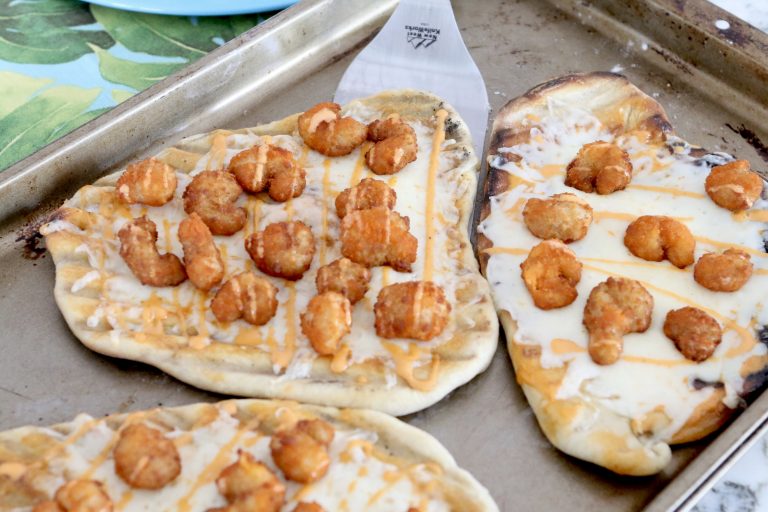 Individual Buffalo Shrimp Grilled Pizzas
Author: Leslie Green - The Hungry Housewife
Prep time: 10 mins
Cook time: 10 mins
Total time: 20 mins
Individual Buffalo Shrimp Grilled Pizzas
1 lb. Fresh Pizza Dough (this can be found in the deli department), divided into 4ths
12 oz. box SeaPak Popcorn Shrimp, cooked to package directions
⅓ cup Ranch Dressing
4 tablespoons Buffalo Style Hot Sauce, divided
8 oz Mozzarella Cheese, shredded
Olive oil
In a small bowl, mix together ranch dressing and 2 tbsp buffalo sauce. Set aside.
Brush grill grates with olive oil.
Turn grill on and set to low heat.
Roll each portion of pizza dough out to ¼" thick
Lightly brush one side of each pizza dough with olive oil.
Place pizza dough portions on grill, oil side down.
Close lid and allow to cook for 4-6 minutes until bottom of crust is crispy. Remove from grill to baking sheet. (close grill lid)
Spread each pizza with 1 tablespoon ranch/buffalo sauce mixture. (Spread it on the side that was cooked on the grill grates)
Top with mozzarella cheese.
Place back on grill, close lid and allow to cook for 4-5 minutes more until cheese is melted and crust is crusty. Remove from grill.
In a medium bowl toss prepared SeaPak Popcorn Shrimp with remaining 2 tbsp buffalo sauce.
Top each pizza with SeaPak Popcorn Shrimp and drizzle with remaining ranch/buffalo sauce.
Recipe by
The Hungry Housewife
at http://www.thehungryhousewife.com/2016/06/individual-buffalo-shrimp-grilled-pizzas.html