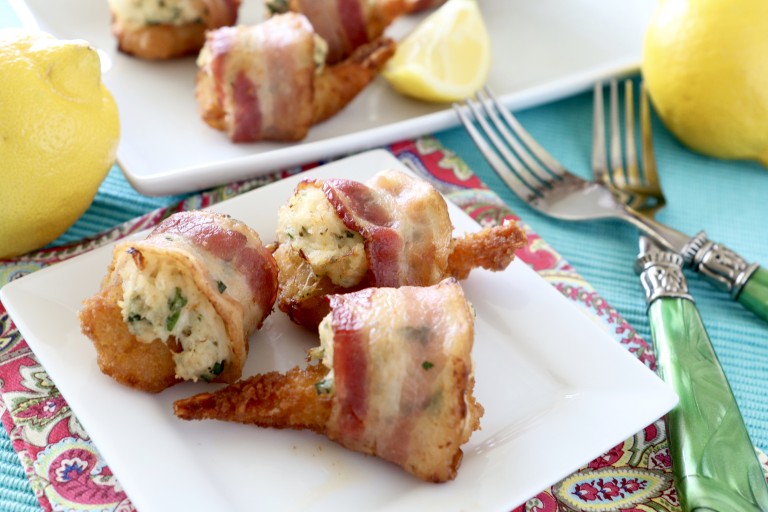 Author: Leslie Green - The Hungry Housewife
Prep time: 10 mins
Cook time: 24 mins
Total time: 34 mins
A simple semi-homemade appetizer made with SeaPak shrimp.
Crab Stuffing
8 oz lump crab meat
3 tablespoons mayonaise
2 geen onions, geen parts only, thinly sliced
2 tablespoons Flat Leaf Parsley, Chopped fine
¼ cup Panko crumbs
½ tablespoon Dijon Mustard
½ teaspoon Seafood seasoning (such as Old Bay)
Juice from ½ lemon
Salt and Pepper to taste
Preheat over to 400º.
Place bacon on rimmed being sheet lined with non-stick foil or parchment paper.
Bake bacon for 10 minutes. (You want the bacon to be almost done, but not crispy).
Remove and place on paper towel lined plate.
Increase oven to 425º
Crab Stuffing
In a medium bowl, mix crab,mayonnaise, green onions, parsley, panko crumbs, mustard, seafood seasoning, lemon juice, salt and pepper.
Arrange shrimp on a baking sheet, place 1 tablespoon of crab filling on top of shrimp.
Wrap bacon around shrimp with 2 ends under shrimp.
Place shrimp bacon seam side down on baking sheet.
Bake for 14 minutes.
You will most likely have some excess crab filling.
Cover and store in refrigerator for 2 days or make a couple small crab cakes.
To make crab cakes, form into small patties, coat in bread crumbs and cook in a medium skillet over medium low heat with olive oil until crispy on both sides.
Recipe by
The Hungry Housewife
at http://www.thehungryhousewife.com/2016/03/crab-stuffed-bacon-wrapped-butterfly-shrimp.html