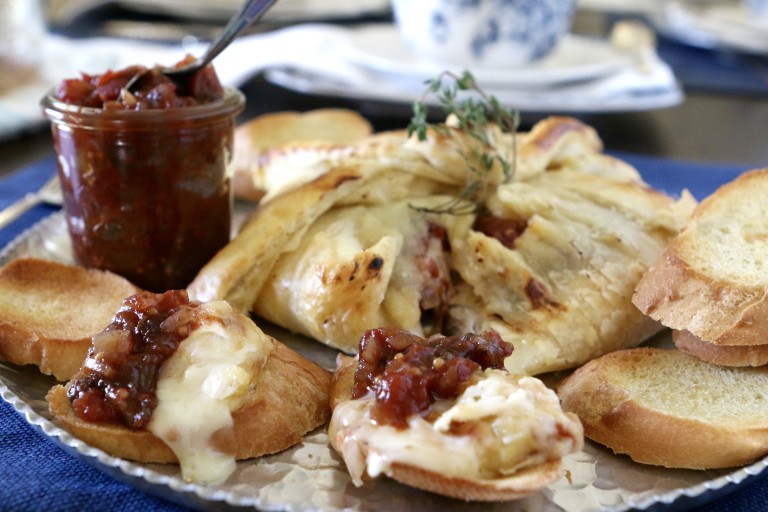 Wrapped Brie with Tomato Chutney
Author: Leslie Green - The Hungry Housewife
Prep time: 15 mins
Cook time: 30 mins
Total time: 45 mins
Tomato Chutney
Wrapped Brie
1 egg, beaten
2 tablespoons water
1 sheet puff pastry, thawed
1 13-16 ounce round Brie cheese
1½ cups Tomato Chutney
Tomato Chutney
In a heavy saucepan combine all the above ingredients.
Cook mixture over medium heat, stirring occasionally, for 30 minutes.
Reduce heat to low and simmer mixture, stirring occasionally, for 30 minutes more, or until thickened and reduced to about 2 ½ cups.
Place in a jar with a tight fitting let.
Chutney will keep in the refrigerator for 2-3 weeks.
Or to preserve, put chutney in canning jar and place in hot water bath for 15 minutes or heat mixture to boiling, put in mason jars and seal with lid and tightly turned ring.
Turn upside down and allow to cool. Can be divided into smaller jars to give as gifts.
Makes 2½ cup, preparation time 10 minutes and cooking time 1 hour.
Wrapped Brie
Preheat oven to 400o F.
Beat egg and water in a small bowl, set aside.
Sprinkle work surface with flour to prevent pastry from sticking.
Unfold thawed pastry sheet on floured work surface.
Roll the pastry into about a 14 inch square.
Spread about ½ cup of the chutney on the pastry to within 2 inches of the edge.
Slice cheese in half horizontally.
Remove top of cheese and spread remaining chutney on the cheese.
Place the other half on chutney.
Fold pastry up and over the cheese to cover.
Trim any excess pastry and press to seal.
Brush the seam with the egg mixture.
Place wrapped brie, seam-side down onto a baking sheet.
If you wish, you can decorate with pastry scraps. Brush top with egg mixture.
Bake for 25 minutes or until golden brown.
Let stand 30-45 minutes before serving.
Serve with thin slices of toasted Italian bread or crackers.
Recipe by
Tuttorosso
Photographs by The Hungry Housewife
Recipe by
The Hungry Housewife
at http://www.thehungryhousewife.com/2016/03/wrapped-brie-with-tomato-chutney.html