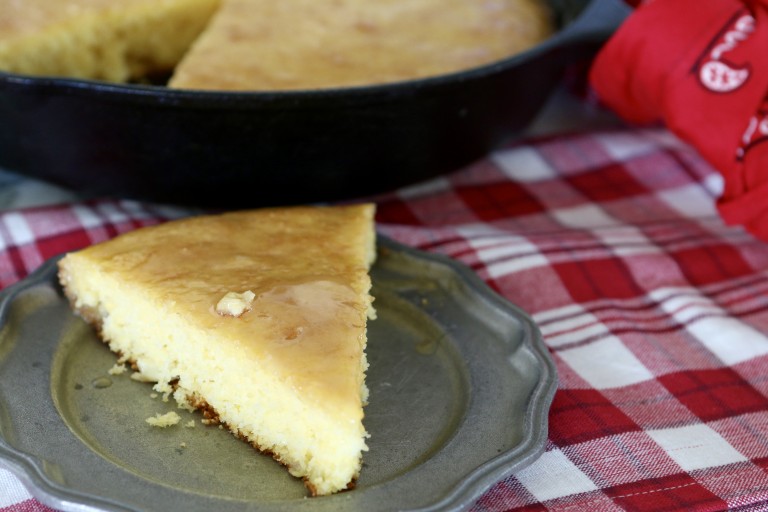 Buttermilk Cornbread with Maple Buttermilk Glaze
Author: Leslie Green - The Hungry Housewife
Prep time: 10 mins
Cook time: 22 mins
Total time: 32 mins
An easy a delicious cornbread with an irresistible maple buttermilk glaze.
Cornbread
Two 7oz packages Martha White Sweet Cornbread and Muffin Mix
1 cup Buttermilk
2 Eggs, lightly beaten
1 cup fresh or frozen(thawed) Corn Kernels
Glaze
5 tablespoons Butter
2 tablespoons Powered Sugar
⅓ cup Buttermilk
¼ cup Real Maple Syrup
1 teaspoon Vanilla Extract
pinch Coarse Kosher Salt
Heat oven to 400. Grease a 10" cast iron skillet with shortening. Place in oven for 10 minutes.
Combine cornbread mixes, buttermilk and egg in a medium mixing bowl;stir until smooth.
Stir in corn.
Carefully remove HOT skillet from oven and pour in cornbread mixture.
Bake for 17-22 minutes or until golden.
Glaze
In a small pan, melt butter. Stir in buttermilk and maple syrup.
Add powdered sugar and which until smooth.
Bring to a simmer and lightly boil for 3 minutes.
Remove from heat and add vanilla extract and salt. Stir to combine.
Pour over warn cornbread.
Allow cornbread to slightly cool prior to slicing.
Recipe by
The Hungry Housewife
at http://www.thehungryhousewife.com/2016/03/buttermilk-cornbread-with-maple-buttermilk-glaze.html