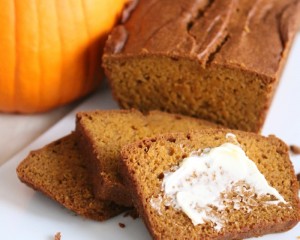 Author: Leslie Green - The Hungry Housewife
Prep time: 5 mins
Cook time: 80 mins
Total time: 1 hour 25 mins
An easy, not overly sweet pumpkin bread
Dry ingrediens
2½ cups Flour
2 teaspoons Baking Soda
1 box French Vanilla Instant Pudding Mix
1 box Pumpkin Spice Instant Pudding Mix
1 teaspoon Cinnamon
½ teaspoon salt
Wet Ingredients
5 Eggs
1¾ cups Sugar
1 can Pumpkin (NOT pumpkin pie filling)
1 cup unrefined Coconut Oil melted
1 teaspoon Vanilla Extract
Preheat oven to 350 degrees.
Grease two 9 x 5 loaf pans.
In a large bowl, whisk together flour,baking soda, pudding mixes,cinnamon and salt. Set aside
In a separate medium bowl, with an electric hand mixer, mix, eggs, sugar,pumpkin,coconut oil and vanilla extract.
Add liquid ingredients to dry and mix until fully incorporated.
Batter will be thick.
Evenly divide into two 9 x 5 loaf pans. (about 2 pounds of batter per each loaf)
Bake for 75-80 minutes.
Allow to cool.
Recipe by
The Hungry Housewife
at http://www.thehungryhousewife.com/2015/11/pumpkin-bread.html