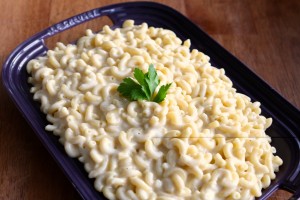 Author: Leslie Green - The Hungry Housewife
Prep time: 5 mins
Cook time: 12 mins
Total time: 17 mins
Easy stovetop macaroni and cheese
8 oz. Pasta, cooked to package directions
¼ cup Butter
¼ cup Flour
1 teaspoon Dry Mustard
2¼ cup Whole Milk
8 oz. Cabot White Oak Sharp Cheddar Cheese (or your favorite Sharp White Cheddar)
Salt and Pepper to taste
Melt butter in a large pot over medium heat.
Add flour and dry mustard and cook while stirring occasionally for 3-4 minutes.
Slowly add milk while stirring. Cook and stir until smooth.
Bring to a light boil and boil for 2 minutes.
Add cheese, stir until smooth.
Stir in hot cooked pasta.
Salt and pepper to taste.
Recipe by
The Hungry Housewife
at http://www.thehungryhousewife.com/2015/03/easy-macaroni-and-cheese.html