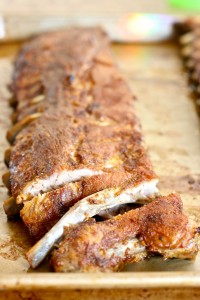 Author: Leslie Green - The Hungry Housewife
Prep time: 10 mins
Cook time: 3 hours 30 mins
Total time: 3 hours 40 mins
How to cook ribs in the oven
1 slab Baby Back Ribs (about 2½ pounds)
2 teaspoons Vegetable Oil
1 tablespoon Coarse Kosher Salt
1 tablespoon Light Brown Sugar
1 teaspoon Chili Powder
¾ teaspoon Garlic Powder
¾ teaspoon Onion Powder
½ teaspoon Dry Mustard
¼ teaspoon Freshly Cracked Black Pepper
¼ teaspoon Cumin
¼ teaspoon Paprika
⅛ teaspoon Ground Red Pepper
Preheat oven to 400.
In a small bowl mix together, salt,sugar,chili powder,garlic powder,onion powder,pepper, cumin,paprika,red pepper and dry mustard together; set aside.
Place a large sheet aluminum foil(large enough that you can loosely wrap around the entire slab) on a large rimmed baking sheet.
Rub both sides of slab of ribs with oil.
Sprinkle both sides liberally with seasoning mixture.
Make a foil packet around ribs, sealing it up tightly.
Place ribs in oven and reduce oven temperature to 275.
Bake for 3½- 4 hours.
Remove ribs and place oven on high broil.
Carefully remove ribs from foil packet and place back on baking sheet.
Broil ribs on middle rack of oven for 5-10 minutes until the meat and fat around the edges become crispy.
Eat as is or slather with your favorite BBQ sauce.
Recipe by
The Hungry Housewife
at http://www.thehungryhousewife.com/2014/08/oven-baked-ribs.html