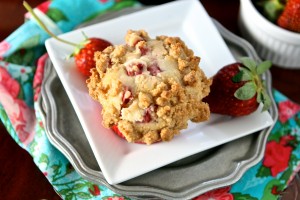 Strawberry Cheesecake Streusel Muffins
Author: Leslie Green - The Hungry Housewife
Prep time: 15 mins
Cook time: 25 mins
Total time: 40 mins
Streusel Topping
3 tablespoons White Sugar
3 tablespoons Dark Brown Sugar
½ cup + 3 tablespoons Flour
Pinch Coarse Kosher Salt
5 tablespoons butter, melted
Cream Cheese Filling
4 ounces cream cheese
⅓ cup white sugar
2 teaspoons beaten egg
1 tsp vanilla extract
Muffin Batter
2 cups all purpose flour
½ cup granulated sugar
2 tsp baking powder
½ tsp salt
1 egg
¼ cup canola oil
1 cup whole milk (original recipe used ¾ cup)
1 tsp vanilla extract
1½ cups strawberries, cut into small pieces
Preheat oven to 400. Line a muffin tin with cupcake liners and spray each liner with non-stick spray. Set aside.
To make the streusel topping, mix together sugars, flour and salt. Drizzle warm butter over mixture and toss with fork to form pea size pieces. Set aside.
To make cream cheese filling, beat cream cheese, sugar, egg and vanilla extract together with an electric mixer in a medium bowl until smooth. Set aside.
TO make the muffins.
Whisk flour, sugar baking powder and salt in a medium bowl.
In a separate bowl, whisk the egg,oil milk and vanilla extract.
Add the dry ingredients into the milk mixture. Stir until just incorporated. Do not over mix or you will get a tough muffin.
Fold in the strawberries.
Scoop a heaping tablespoon of the muffin batter into each cupcake liner. Add a heaping tablespoon of the cream cheese filling. Add another heaping tablespoon on batter onto of the cream cheese filling. I was able to fill the muffin tins full. Sprinkle the streusel topping on the tops.
Bake for 25 minutes.
Allow to cool in muffin tin for 10 minutes.
Remove and chow down.
Recipe by
The Hungry Housewife
at http://www.thehungryhousewife.com/2014/04/strawberry-cheesecake-streusel-muffins.html