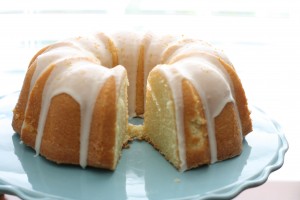 Author: Leslie Green - The Hungry Housewife
Prep time: 10 mins
Cook time: 60 mins
Total time: 1 hour 10 mins
2¾ cups Sugar
Zest from 2 Meyer Lemons
3 sticks Salted Butter, room temperature
3 cups sifted Cake Flour
6 Eggs
½ pint Heavy Whipping Cream
1½ teaspoons Lorann Butter Vanilla Bakery Emulsion or 1 teaspoon Vanilla extract
Glaze
2 cups sifted Powdered Sugar
½ stick Butter, melted
2 tablespoons Meyer Lemon Juice
¼ teaspoon Vanilla Extract
Preheat oven to 325. Butter and lightly flour a 10" Bundt Pan.
Put sugar and lemon zest in a bowl, using your fingers, roll the sugar and lemon zest in-between your fingers. This will release the oils from the zest and essentially make a lemon scented sugar.(the sugar will have a light yellow/orange color)
Sift cake flour, then lightly spoon 3 cups flour into a small bowl;set aside.
With an electric mixer in a large bowl, combine the sugar and butter until creamy.
Add eggs to the sugar/butter mixture one at a time, beating well in between each egg.
Mix in flour and whipping cream alternatively beginning and ending with flour.
Stir in butter vanilla bakery emulsion or vanilla extract.
Pour into prepared bundt pan.
Bake for 60-75 minutes or until a cake tested comes out clean.
Cool in pan for 10 minutes, then invert onto a wire cool rack and remove the pan.
Cool completely before glazing.
Glaze
In a medium bowl, beat the powdered sugar and butter together.
Stir in lemon juice and vanilla extract.
Mix until smooth.
If for any reason it is not at the pourable constancy, you can add a tiny splash of milk or cream.
Pour glaze over the top of the cake.
This cake can be make up to 3 days in advance. I think it is Wayyyyyyyy better the next day!
Recipe by
The Hungry Housewife
at http://www.thehungryhousewife.com/2014/03/meyer-lemon-pound-cake.html