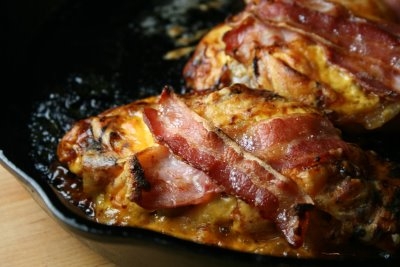 Author: Leslie Green - The Hungry Housewife
A cheesy BBQ chicken that will sure have you coming back for more!
4 boneless, skinless organic chicken breasts
½ tablespoon olive oil
8 slices of bacon, cut in half
1 onion, caramelized
1 bottle of BBQ sauce(or homemade)
Cheese( I used the Cheddar, Colby jack shredded cheese blend)
Place chicken breasts in large zip lock bag and pour enough BBQ sauce in bag to cover the chicken.
Marinate them in the fridge from about 30 minutes.
Preheat oven to broil HI, with rack 4 inches from heat
In a large oven proof skillet( I used my trusty cast iron skillet), over medium heat, add the olive oil then sautee chicken until mostly done, about 4 minutes per side.
Pour some BBQ sauce over chicken.
Place desired amount of onions on the chicken.
Cover with cheese(how ever much you want)
Place bacon on top.
Place pan in the oven and broil until the bacon has crisped up, about 5 minutes. Or until the chicken reads 165 on a instant read thermometer.
Recipe by
The Hungry Housewife
at http://www.thehungryhousewife.com/2009/02/bbq-cheesy-chicken.html