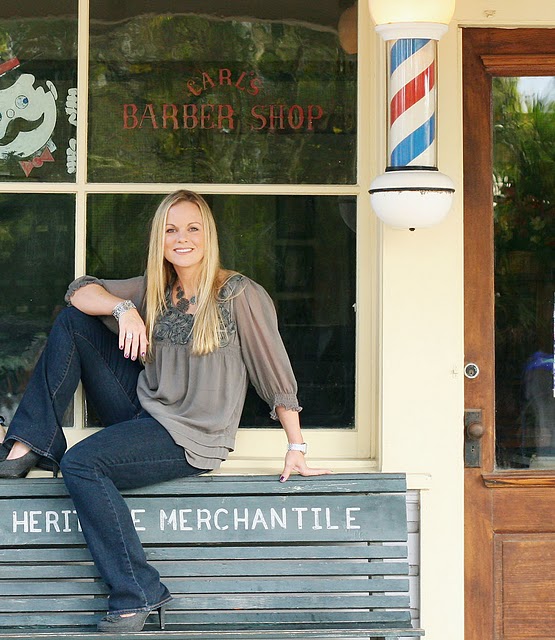 Well hi there.
My name is Leslie Green, affectionately know as The Hungry Housewife.
I am a 40 year old wife and mother of two wonderful children.
I grew up in the small town of Vero Beach Florida ,where My mother managed a very well known restaurant. I spent many hours in the restaurant before I got my first job there at the age of 15. Our lives revolved around food. Whether being at the restaurant or being at home watching my mother read over her extensive collection of cookbooks, food was a huge part of my life.
As a young adult, I did not do much cooking. However, after getting married and having children, my hidden love for food was revived. I started my own cookbook collection and began exploring my family's wants and desires in the kitchen.
Since starting my blog in April 2008 my blog has grown by leaps and bounds without much social media push.
Since starting my blog The Hungry Housewife, I have appeared on the Nationally syndicated morning show "Daytime" over a dozen times, creating kid friendly holiday treats and cooking for the 2012 Olympic Zone segments.
I am also a food contributor for Creative Loafing (an online and print magazine). I was featured in the St. Pete Times In January 2009 in an article titled "Nine To Watch In 09". I provided food for a VIP Super Bowl Party for the Professional Sports Wives Association and the Professional Athletes Council. I was hired by the USA Poultry & Egg Export Council to do a cooking demonstration at the 2011 Commodity Classic in-front of an audience of a several hundred people. Sweetbay Supermarket hired me to do weekly on-line videos revolving around their weekly deals and also develop recipes for their popular $10 meal series. I have represented Nordic Ware as their on-air sales personality on The Home Shopping Network. In April 2012, I was hired by the Florida Beef Council for recipe development and to do on air appearances and live cooking demonstrations.
You can view the majority of my on air appearances on my "As seen on" page.
I appeared in online Videos for Frito-Lay.
I have proudly worked with over 30 National brands.
Lastly, a major Food Network Production Company, Follow Productions(Gordon Elliott), filmed a pilot for the food network, staring me, the Hungry Housewife! It can be seen here http://www.youtube.com/watch?v=3cPuBT1HZHc
As you can see many wonderful things have happened to me since April 08. All I was trying to do was figure out how to manage my hectic everyday schedule, get a healthy fast and affordable meal on the table for my family all while building memories in the kitchen with my children. I suppose the old saying is true…."Do what you love and good things will happen."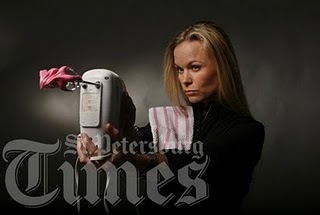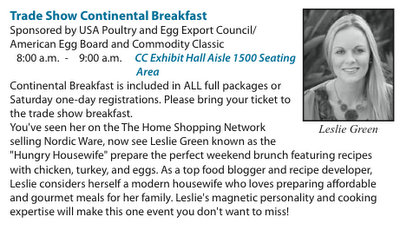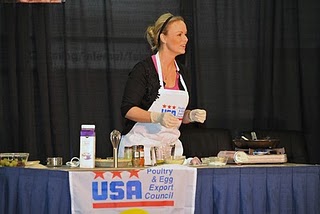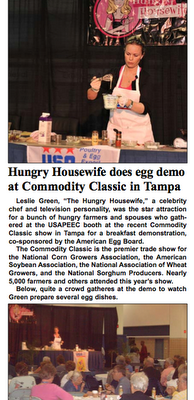 Recipe Developer for Sweetbay Supermarket.
Frequently Asked Questions…
I get many emails asking various questions about my blog. So I am going to do my best to answer them.
Why did you start a food blog?
It is a bit of a long story, but I will give you the cliff notes version (are Cliff notes even sold anymore?). My husband was gone at night remodeling his Mothers house while she was away on missionary work. So after the kids went to bed, it got pretty boring. I loved food and loved photography, so I thought I would take pictures of my food and put it on the internet. I am hoping you weren't expecting something more exciting than than that.
How did you come up with the name "The Hungry Housewife"?
This was quite easy. My kids were at the table playing the board game "Hungry Hungry Hippo". And it instantly hit me! The Hungry Hungry Housewife! I decided to shorten it to just use one "Hungry". And "The Hungry Housewife" was born.
Who takes your photos?
That would be little ole' me.
What type of camera do you use?
At the beginning of my blog I used a standard point and click camera. Point and clicks are all fine and dandy, but they just don't fit the bill when it comes to taking pretty food photos. I am by NOOOOOOO means a great photographer, in fact my photos are sub par if you take a peek at other food blogs. But the crispness of my pictures comes from my DSLR..Canon EOS Digital Rebel XT with a 50mm 1.4 lens.
My kitchen is SUPER dark so I often rely on the light of an Lowel Ego Light. Your camera flash will KILL your food photography.
Why do you do videos on your blog?
I do videos when I want to talk about something that I am really excited about or when something is too important to "type". Translation gets lost on the pages
of a computer and I like for people to be able to feel and see my excitement.
Where do you find your recipes?
Unless otherwise noted, they are found in my crazy and confused mind.
Can you review my book or product?
Shoot me an email and if I feel that your product is relevant to my blog, I will certainly consider doing a review.
You have so may typos, why?
That would be because I went to school for nursing, not grammar.
Privacy Policy:
The Hungry Housewife believes very strongly in keeping your personal information confidential.  The following policy describes what information we collect and how it is used and shared.
Information Collected
The Hungry Housewife collects as little information as possible from users looking to post comments and messages in the forum.  We will typically collect a name (either real or alias), personal website, and e-mail address.
Cookies / IP Address tracking
The Hungry Housewife uses cookies to uniquely identify users for the purpose of log files, posting comments, and voting on the site.  No personal information is stored in these cookies and it simply a way to identify your computer.
With Whom Information is Shared
None of your information will be shared with third parties.  The Hungry Housewife may use your e-mail address in the future to contact you regarding the site, however, an opt-out will always be provided.  Your name and website may be displayed on the site if you post a comment or a message in the forum.  However, your e-mail address and privacy will always be kept secure.
Opting Out
If The Hungry Housewife chooses to send out newsletter updates in the future and we have your email address on file, you may receive a copy of our newsletter.  However, at the bottom of every newsletter will be an easy way to opt-out.  The editors of our site hate SPAM as much as you and have no intention of filling up e-mail boxes with unwanted messages.
Third Party Advertising
We allow third-party companies to serve ads and/or collect certain anonymous information when you visit our web site. These companies may use non-personally identifiable information (e.g., click stream information, browser type, time and date, subject of advertisements clicked or scrolled over) during your visits to this and other Web sites in order to provide advertisements about goods and services likely to be of greater interest to you. These companies typically use a cookie or third party web beacon to collect this information. To learn more about this behavioral advertising practice or to opt-out of this type of advertising, you can visit networkadvertising.org