I can't believe I am doing this, but I am sharing my uber popular, semi top secret buttercream frosting recipe with you. Wait, or is it Buttercream Icing??? I'm pretty sure that frosting and icing can be used interchangeably.
Anyways, everyone who tastes this frosting just adores it. It's like the frosting you would get from the bakery. Sweet and fluffy.

When I used to make cakes for people this was my go to recipe for vanilla frosting 100% of the time. And even though I don't make cakes for money any more, I still ALWAYS use this recipe. Because it uses Crisco shortening, it pipes beautifully and holds its shape unlike an all butter frosting which sometimes falls and looses its shape. You can even make the frosting incredibly smooth so it almost looks like fondant. It's an old trick learned years ago on YouTube. Just google"How to frost a cake with a Viva paper towel".
Here are a bunch of cakes I have made over the last 10 years or so all using this frosting recipe. You can see how versatile it is. Excuse some of the photos, like I said, some are quite old.
This frosting also pipes BEAUTIFULLY onto cupcakes. The recipe makes enough to frost a dozen cupcakes with some leftovers.
This was the first wedding cake I made.
I thickly frosted the cake and then used a back of a spoon to swoosh the frosting…
This next cake blew up the internet. So many people stole my photo and used it on FB business sites, business cards, etc. It was quite annoying but flattering as well. You can see my long winded YouTube video on how to frost it. https://www.youtube.com/watch?v=K_hZEB2GXbI
This was an adorable Birthday cake I made for a friend. See how smooth the frosting is? I used the Viva paper towel method to achieve the almost fondant like smoothness!
I can't remember who I made the next cake for. It was either my daughter or niece. They wanted a "Messy rose cake".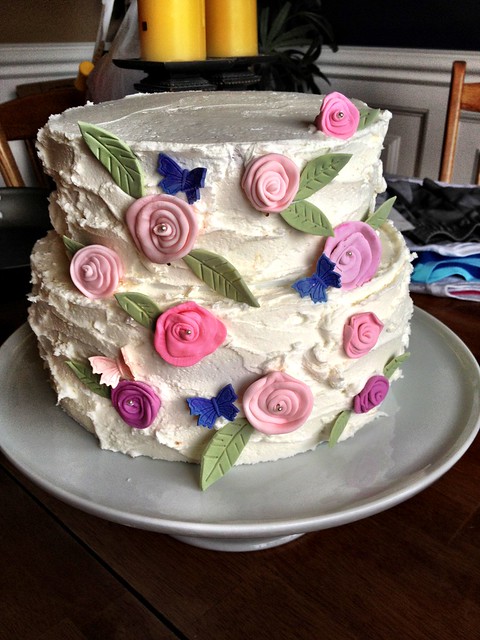 I laugh at the next cake. My daughter drew what she wanted her cake to look like, so this is right out of her then 6 year old little brain. The same frosting was used on all parts of the cake. )except the dots and letters, those were frosting)
Another super simple wedding cake with the spoon swooshing method.
Not sure what to call the next cake. Just a simple line cake I suppose.
Another fun Viva Paper towel method…. I believe this was for the same person as the pirate Hello Kitty Cake.
I loved both of those fun cakes. The decorations were made from fondant.
I made this next cake for a baby shower. The mommy to be wanted it to match her invitation. I think it is too cute. Frosted with the Viva Method and decorations were fondant.
This was an adoption cake. Simple and cute.
I LOVED this cake I made for my sons 8th birthday. He was obviously into soccer. Sad the he will be 14 in 2 months 🙁
Another cake my daughter thought up. She wanted a shabby chic rose birthday cake. And a shabby chic rose birthday cake is what she got!
I made this rose cake for my husband. Pretty isn't it?
Yet another birthday cake for my husband. His birthday is close to Halloween, hence the spider on top.
I loved this one. Super simple.
I made this blue ombre cake for a good friends' baby shower. It's one on my favorites just because its simplicity.
Another hubby birthday cake. I had no clue what to make him this particular year, so I just did a simple cake with chocolate shaving curls. I think it turned out great for a super quick job.
I think this one was for my son. I wanted another easy cake that only required me to add food coloring to some frosting. I will say that this one took a while to pipe all of those dots!!!!
This is probably one of my all time favorite birthday cakes I made for my daughter! I saw the idea somewhere and went from there. Too stinking cute!!!!
I made the next cake for my neighbors surprise 50th party. Isn't it pretty?
I think I called this one the reverse ruffle. I have no clue who it was for. I am sure someone in my families birthday.
And my daughter Emma made this one….
So yes, all of the above cake were all made with the same exact frosting.
The star of the frosting really is the Crisco Shortening. It just makes the frosting super smooth and sturdy. And another plus is that Crisco Shortening actually has 50% saturated fat than butter and ZERO grams of trans fat her serving. BONUS.
This is a super simple recipe….. You might just have everything you need in your pantry already
Be careful, this buttercream frosting is super addictive for both children and adults alike.
You might just want to get a spoon for your self.
Or just shove your whole face in there.
___________________________________________________________________

Buttercream Frosting
Author:
Leslie Green - The Hungry Housewife
Ingredients
2 sticks (1 cup) salted butter, room temperature
2 cups Crisco shortening
½ teaspoons plus a pinch more coarse kosher salt
2 teaspoons butter flavoring
2 teaspoons pure vanilla extract
⅛ teaspoon almond extract
2 pounds powdered cane sugar, divided
1½ tablespoon meringue powder
Milk, about 2-3 tablespoons (you can also use water if you plan on leaving the frosting out)
Instructions
In the bowl of a stand mixer with the flat beater attachment, on low speed mix the butter, Crisco shortening and salt together until completely incorporated. Scrape the sides as needed with a rubber spatula.
Mix in butter flavoring, vanilla and almond extract.
Slowly add in meringue powder and half of the powdered sugar, mix until smooth. Scrape sides as needed.
Slowly add the remaining powdered sugar and mix until smooth. Scraping sides as needed.
Add milk 1 tablespoon at a time until you reach a spreading consistency. You may only need 1 tablespoon or all 3. It all depends on how thick you like your frosting.
Notes
Meringue powder is optional, but I like to use it when I am using the Viva Paper towel method for a smooth cake.
You can find meringue powder at Michaels in the cake decorating section or possibly at the grocery store tables egg white powder.
In place of the milk you can use water if you plan on leaving the frosting out a room temperature for an extended period of time.
This frosting keeps well in the refrigerator for up to a week if stored in an air tight container. Bring to room temperature prior to using.
This post is sponsored by
Crisco
. I have received compensation for my work and time. All opinions are 100% mine.