Buttermilk Cornbread with Maple Buttermilk Glaze… didn't you hear me say that with a thick country accent?
Seriously, nothing says country than a nice big ol' piece of cornbread.
There was a time in my life when I didn't like cornbread. I think it was during my rebellion years.

But, thankfully I have gotten smart over the years.
This is a semi-homemade recipe.
For the base, I used Martha White Sweet Yellow Cornbread and Muffin mix. Using mixes like this makes life so much easier if you are not a baker, or are just short on time. The package states just use water and egg. Instead of water I used buttermilk and added corn kernels to the mix (maybe my rebellion stage hasn't left me completely).

And for the kicker, I made a scrumptious Maple Buttermilk Glaze that you pour all over the cornbread when it's fresh out of the oven.
I mean really!
Wait, do you hear banjo music??
It might be the cornbread playing trick on me.
Nah, I wanted to tell you about a fun relationship between county music and Martha White. Country music and baking pretty much go hand in hand if you ask me. Just reminds me of "down home".
Martha White is having a super cool giveaway on their Facebook page with The County Music Association. They are giving away 4 grand prizes that will include a trip for 2 to the CMA Music Festival in Nashville!! But hurry up and enter here, as the contest ends on March 14th!!!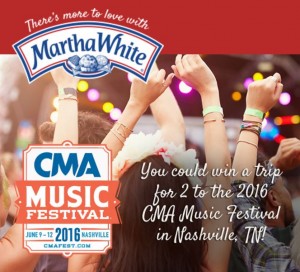 Martha White has some pretty convenient and fun muffin mixes. My favorites are the Banana Nut and  the Wildberry. The sweet potato muffin mix is pretty great as well.
Buttermilk Cornbread with Maple Buttermilk Glaze
Author:
Leslie Green - The Hungry Housewife
Prep time:
Cook time:
Total time:
An easy a delicious cornbread with an irresistible maple buttermilk glaze.
Ingredients
Cornbread
Two 7oz packages Martha White Sweet Cornbread and Muffin Mix
1 cup Buttermilk
2 Eggs, lightly beaten
1 cup fresh or frozen(thawed) Corn Kernels
Glaze
5 tablespoons Butter
2 tablespoons Powered Sugar
⅓ cup Buttermilk
¼ cup Real Maple Syrup
1 teaspoon Vanilla Extract
pinch Coarse Kosher Salt
Instructions
Heat oven to 400. Grease a 10" cast iron skillet with shortening. Place in oven for 10 minutes.
Combine cornbread mixes, buttermilk and egg in a medium mixing bowl;stir until smooth.
Stir in corn.
Carefully remove HOT skillet from oven and pour in cornbread mixture.
Bake for 17-22 minutes or until golden.
Glaze
In a small pan, melt butter. Stir in buttermilk and maple syrup.
Add powdered sugar and which until smooth.
Bring to a simmer and lightly boil for 3 minutes.
Remove from heat and add vanilla extract and salt. Stir to combine.
Pour over warn cornbread.
Allow cornbread to slightly cool prior to slicing.
**This post is sponsored by Martha White. All opinions and recipes are 100% mine**