Dear Coffee,
We first met when I was a young child as I stole a sip from my Mother's coffee cup. I must admit, your flavor was strong and bitter, definitely not for me. Even though your taste made me crinkle my nose, your aroma always delighted my senses. Was this a sign you would come back into my life?
You decided to come back into my life after high school. All the cool kids were drinking it and I didn't want to be left out.  I poured what appeared to be a quarter cup sugar and a half gallon of milk into you and sipped away. Over the years, I have weaned myself off of the lavish amounts of milk and sugar to a more figure acceptable amount. Now you are a part of my daily life and could not live without you. Of course there is the pick me up benefit of your caffeine, but it is the pure joy of your flavor that I savor.
You make my mornings complete.
I.LOVE.YOU.COFFEE
So that was my letter to coffee..totally cheese-y huh?
While I do adore my coffee, I am NOT a coffee snob. I refuse to make a morning coffee run to spend $5 on a fancy coffee.
Imagine having out of town guests, do you want to run out and buy 5 cups of coffee, spend $25 and end up spilling one on your lap in the car on the way home??  No, I didn't think so. And you know what, out of town guests prefer a perfectly brewed cup of coffee instead of running to the nearest convenience store to grab their cup.
I do not own a drip coffee maker. I use my Keurig almost everyday. While I am completely obsessed with my Keurig for my daily coffee for its 1 cup ease of use, I do adore making French Press Coffee for my guests….they think I'm all fancy and I get to use my ground coffee.
I am pretty obsessed with the new Millstone® Slow-Roasted blends. Seriously, they are the best kept secret in the grocery store for all you coffee lovers. And the new packaging…I am in love! It totally caught my eye at the grocery store.
The Mayan Black Onyx™ is  a dark, full-bodied blend, with a rich finish.
The Mayan Black Onyx™ is Certified USDA Organic and Fair Trade Certified™.
The House Blend is my favorite. It's a medium roast with a well-balanced blend and a flavorful smooth finish.
The Millstone® coffees are wonderful for the French Press, as the grind is perfect.
You should really go out and your yourself a French Press. They are inexpensive , come in a variety of sizes and can be found at just about any major retailer.
This is how you brew a perfect cup of Millstone® coffee for your morning guests (or yourself)
These directions are for an 34 oz. press.
~Take the plunger out of the pot.
~Place 4 tablespoons Millstone® Coffee into the pot. (Do not use finely ground coffee, because it is likely to clog the plunger filter)
~Pour very hot(but not boiling) water over top of the coffee, leave a minimum of 1″ free of water from the top.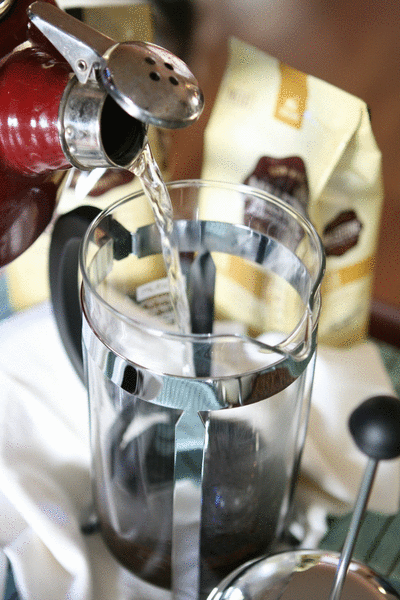 ~Place the plunger on top of the pot, but DO NOT push it down yet. Let the coffee brew for about 5 minutes.
~While firmly holding the handle on the pot, slowly and with light pressure push the plunger down to the bottom of the pot.
~Pour your beautiful cup of coffee!
*The J.M Smucker Company sent me free product samples and asked me to blog about the product. All opinions are 100% mine.