When I was a kid, I thought quiche was food for old people! I swear.
And I also thought the Moose Lodge was a skating rink for old people too. Kids are weird…I was weird.
And I am sure I thought "old", was like 38. Sooooo, that currently makes me geriatric.
Because I am officially a part of the elderly generation, I now love quiche. It's a requirement.

Quiche is so very versatile. If you like it, you can totally throw it in there. Well, maybe except for chocolate, because that would be strange with a bunch of veggies and cheese….but, whatever floats your boat man.
Quiche is also the perfect little dish to serve for your meatless Monday meal, breakfast, brunch, dinner or really anytime during the day.
Eggs are a great way to replace meat in your meals because they have 6 grams of protein and only 70 calories per egg.
Quick Fact: Did you know that Davidson's Safest Choice™ Eggs are pasteurized? Pasteurized=peace of mind™
No more worrying about raw eggs. ( or in my case eating raw cookie dough!!)
No more Salmonella Creepy Crawlies.
Head on Over to Davidson's Safest Choice™ Egg March Meatless Meals Party HERE now through March 31st to win one of two Safest Choice™ prize packs! Each prize pack will include (1) $200 Amex gift card, one (1) Lodge Round Fry Pan 10", one (1) Sur La Table® Red Mixing Bowls, one (1) Flexible Nylon Spatula, one (1) Eggs cookbook, and 52 coupons for a free dozen of Davidson's Safest Choice® Eggs; Approximate Retail Value ("ARV"): $467.00 each.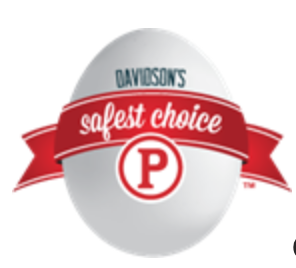 Be sure to like Davidson's Safest Choice™ on Facebook , Twitter, You Tube and Pinterest
---
Cheesy Spinach and Mushroom Quiche
Author:
Leslie Green - The Hungry Housewife
Recipe type:
breakfast, brunch
Prep time:
Cook time:
Total time:
A cheesy quiche with spinach and mushrooms
Ingredients
1 pie crust, homemade or store bought
1½ cups Heavy Cream
8 oz. White Sharp Cheddar Cheese, shredded
½ teaspoon Coarse Kosher Salt
¼ teaspoon Pepper
1 tablespoon Butter
½ tablespoon Extra Virgin Olive Oil
1 pint (8 oz.) Baby Bella Mushrooms, sliced
2 cloves Garlic, Minced
6 oz. Baby Spinach
Instructions
Preheat oven to 425.
Unroll pie dough into a deep dish pie pan, prick all over with fork.
Prebake pie dough for 12 minutes, remove and set aside. Reduce oven temperature to 350.
Whisk together eggs, salt, pepper and heavy cream; stir in cheese set aside
In a large skillet over medium heat, melt butter, add olive oil.
Add mushrooms, cook until golden, about 8-10 minutes.
Add garlic and cook for 30 seconds.
Toss in spinach and cook until just wilted. Allow mixture to cool for about 10 minutes.
Stir the vegetable mixture into the egg mixture and pour into pre baked pie crust.
Place onto a rimmed cookie sheet and bake for 45-50 minutes or until set.
Lightly cover with foil if crust is getting dark.
I am proudly a member of the Davidson's Safest Choice™ Eggs Darling Dozen Ambassador Program. This post is sponsored by Davidson's Safest Choice™ Eggs, however all opinions are 100% mine.