I know the majority of you have never had a Cuban Sandwich, especially if you have never been to Ybor City here in Tampa.
The original Cuban Sandwich was called the mixto, a sandwich comprised of ham, roast pork,swiss cheese and mustard made for Ybor City cigar workers.

You can get "Cuban Sandwiches" most anywhere in Florida now, but most of them are just glorified deli sandwiches, not deserving of the name "Cuban Sandwich".
What makes a Cuban a Cuban is the roast pork. Nooooo, not sliced Spanish roast pork from the deli. It needs to be a Boston butt that his been slowly cooked in Adobo All Purpose seasoning and mojo criollo for hours and then shredded(I do this in the Slow Cooker).
Another item that makes the sandwich perfect is the bread….Cuban Bread. I am sure you wont be able to find it in say, Michigan, so you can settle on a nice hefty loaf of French Bread.
Cheese is also a must. May I suggest the crown jewel of sandwich cheese…
Lorraine® Cheese Reduced Fat Deli Sandwich Slices. Lorraine Cheese is uniquely different than most Swiss cheeses. You see I am not the hugest Swiss Cheese fan but Lorraine Cheese is much more mild the most Swiss and it has a creamier flavor and lacy light texture that melts perfectly on hot sandwiches.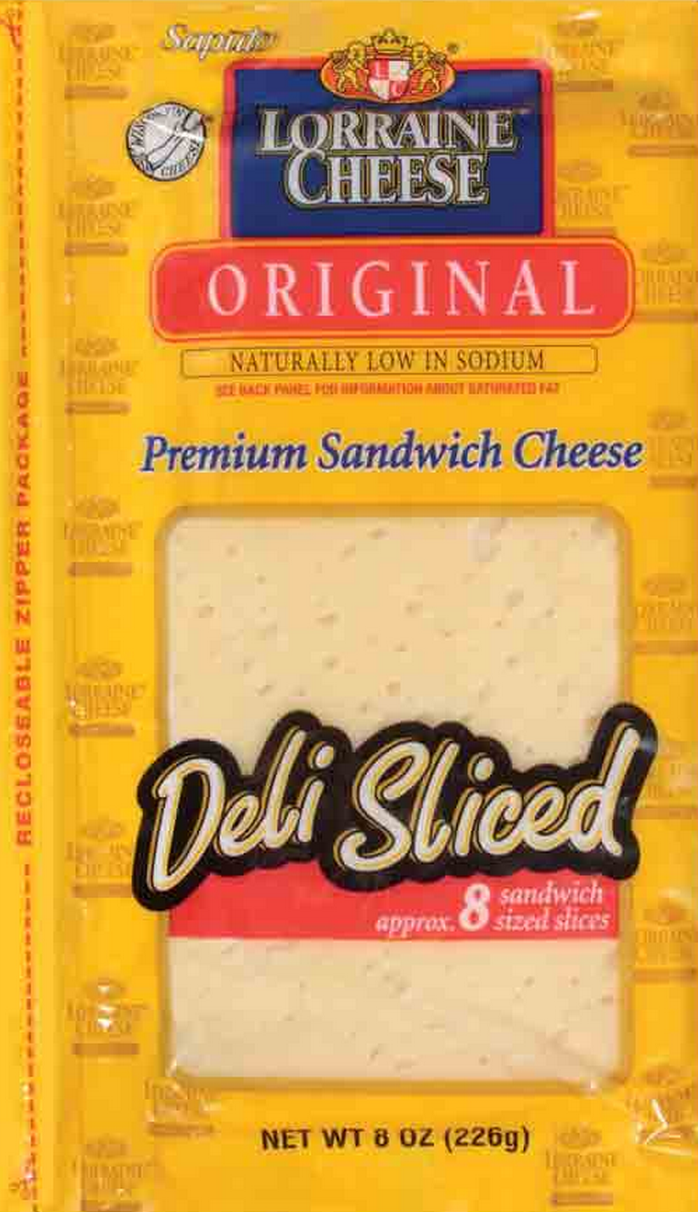 The trick here is to make a large Boston Butt and use the meat for several dinners, reserving 2 cups of meat for these tasty sandwiches.
Start assembling your sandwiches. Slather with the mayo/mustard mixture on every piece of bread. Top one slide with 1 1/2 slices of Lorraine® Cheese Original Deli Sandwich Slices.
Lay down some ham
Pile on the shredded pork
Put on some dill pickle slices
Put the tops on and slather on some butter on the tops and bottoms of the bread.

Cut your sandwiches into 4 equal pieces.
This is my fancy sandwich press. I actually do have one, but it is packed away in one of my boxes that I packed when we moved. But you know what, this little trick works perfect. A heavy brick covered in foil is A LOT cheaper than purchasing a sandwich press if you don't have one.
Prefect deliciousness.
Once you have had a REAL Cuban Sandwich, you will crave them on a constant basis.
Stop by and tell Lorriane® Cheese HI on Facebook and also like them on their Pinterest Page
---
Cuban Sandwiche
Author:
Leslie Green - The Hungry Housewife
Prep time:
Cook time:
Total time:
Cuban Sandwich
Ingredients
12 oz. Cuban Bread (approximately 24" long)
⅓ cup Mayonaise
1 tablespoon Yellow Mustard
3 slices Lorraine® Cheese Original Deli Sandwich Slices
½ lb. Deli Ham, thinly sliced
2 cups Shredded Pork(recipe below)
Pickle Slices
4 tablespoons Butter, room temperature
Shredded Roast Pork
4-5 lb. Boneless Boston Butt
Adobo All Purpose Seasoning
3 cups Mojo Criollo
Instructions
Cut bread in half then cut those halves in half vertically.(you will have 4 pieces of bread, 2 tops and 2 bottoms)
In a small bowl, mix mayonaise and mustard together; spread on each piece of bread.
Put 1½ slices on Lorraine® Cheese Original Deli Sandwich Slices on 2 pieces of bread.
On the bottom pieces of bread, add, ham, roast pork and pickles.
Place the top bread on the sandwich.
Brush the tops and bottoms of the sandwiches with butter.
Cut each sandwich into 2 equal pieces.
Place in a sandwich press for 3-4 minutes or until bread is golden.
Shredded Roast Pork
Sprinkle Boston Butt liberally with Adobo All Purpose Seasoning
Place in slow cooker.
Add Mojo Crillio
Cook on low for 8 hours.
Remove, shred the meat and return to the juice in slow cooker.
Reserve 2 cups of meat for the sandwiches.
Notes
If you do not have a sandwich press(like me currently), cover a heavy garden brick with heavy duty aluminum foil.
Place the sandwich in a large skillet over medium heat and put the brick on top of the sandwich. After 3-4 minutes, flip and repeat on the opposite side.

You can find Mojo Criollo and Adobo seasoning in the ethnic section of your grocer or on-line.
**Post sponsored by Lorraine® Cheese. I have been compensated for recipe development. All Opinions are 100% mine.**