Whoot Whoot..the Big Game is on Sunday!
None of my teams are in the game this year, so I suppose I will watch it for the commercials. That's what girl do right? Watch the game for the new commercials.
If you are entertaining for the game, you know you need a bunch of easy, non-fancy some what do-ahead food items.
There is really nothing easier than throwing some chicken breasts in your Crock-Pot® Slow Cooker, tossing in your favorite BBQ sauce and setting it on low for 6 hours. Then all you do is shred it up and pop it on some buns. You can even just keep the chicken in the Crock-Pot® Slow Cooker, pre-slice some buns and have people serve themselves whenever they please. That way the buns don't get soggy.
Isn't the Crock-Pot® Slow Cooker a life saver???
---
Crock-Pot® BBQ Chicken Sandwiches
Author:
Leslie Green - The Hungry Housewife
Prep time:
Cook time:
Total time:
Easy BBQ Chicken Sandwiches
Ingredients
1½ lbs. boneless skinless chicken breasts
1 18 oz jar BBQ sauce
2 large onions,thinly sliced
1 tablespoon butter
4 hamburger rolls, buttered and toasted
butter for hamburger rolls
Instructions
Place the chicken in Crock-Pot® Slow Cooker
Pour in BBQ sauce
Cook on high for about 5½ to 6 hours.
Remove the chicken and shred on cutting board.
Return to the crock pot and incorporate the shredded chicken with BBQ sauce
Distribute onto toasted buns and top with cooked onions
ONIONS
Place the 1 tablespoon butter in a large pot with a lid.
When the butter is melted, add the onions and cover.
Cook on medium low for about 45 minutes, covered stirring occasionally.
Serve over shredded chicken.
---
I am SUPER excited about this giveaway. I'm giving away Crock-Pot® Slow Cookers newest product the Digital Slow Cooker with iStir (TM) Stirring System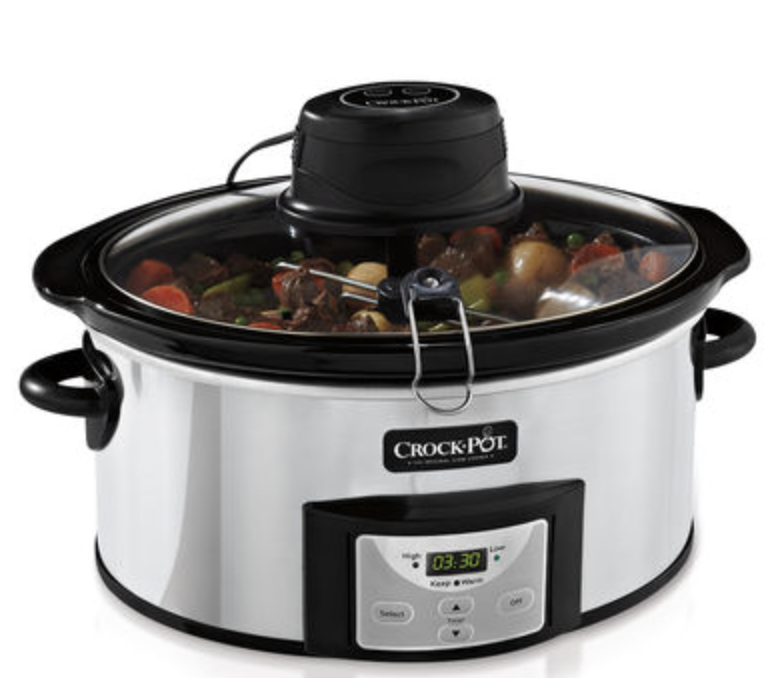 iStir™ does the stirring for you so you don't have to. With the slow cooker's countdown digital timer and automatic stirring, you are provided the convenience of preparing food with perfect results, even if you are not in the kitchen. Simply prepare ingredients, set cook time and attach the motor housing with proper paddle in place. Choose the general purpose paddle for soup and chili or the stew paddle for thick stew and more dense dishes. After an initial 2-hour delay, the stirring self-activates every 30 minutes to ensure thorough mixing and even heating until turned off.
6-quart capacity
Serves 6-8+ people
Includes iStirTM Automatic stirring system with two removable stirring paddles: general purpose paddle and stew paddle
Also includes removable Classic Lid Handle for stirless cooking
Programmable control panel with digital countdown timer allows you to set cooking time anywhere between 30 minutes to 20 hours
HIGH/LOW temperature settings
Automatically shifts to WARM when cooking is complete
Removable oval stoneware
Dishwasher-safe stoneware and glass lid
Polished, silver stainless steel exterior with black accents and plastic handles
GIVEAWAY  *****CONTEST CLOSED*****
Rules: Open to US residents only. Contest ends Tuesday February 4th 9 am EST Winner will be chosen by Random Org.com Main Entry
(Only ONE entry Required)
1.) What is your favorite small kitchen appliance? (For EACH additional entry, you must leave a SEPARATE comment for EACH ADDITIONAL entry,extra entries NOT required)
2.) Like THE HUNGRY HOUSEWIFE on Facebook
3.) Follow THE HUNGRY HOUSEWIFE on twitter
4.) Tweet using this..The @hungryhousewife is giving away a Crock-Pot® Slow Cooker. Stop on by http://tinyurl.com/jw8vp5k
5.) Post about this giveaway on your Facebook Page using this tag, The @hungryhousewife is giving away @Crock-Pot® Slow Cooker Stop on by here..http://tinyurl.com/jw8vp5k
6.) Subscribe to THE HUNGRY HOUSEWIFE via email.
7.)Like Crock-Pot® Slow Cooker on Facebook
8.)Like Crock-Pot® on YouTube
9)Like Crock- Pot® on Pinterest
10) Like Crock-Pot® on Instagram
**This post sponsored by Crock-Pot® Slow Cooker. I did receive a Crock-Pot® Slow Cooker for review, however opinions are 100% mine** Disclosure
WINNER OF THIS CONTEST