Hip Hip Hooray…a healthy recipe.
There was a time when I would never consider soup a meal. I assumed that soup would never fill me up, but I ate this soup today for lunch and it held my hunger at bay until dinnertime. My Cajun Roasted Chicken and Vegetable 15 Bean Soup is a full meal that is packed with protein and filling healthy carbohydrates.

I guarantee that if you make this healthy and hearty soup your whole being will be satisfied.
Oh course I reached for the ever so familiar package of Hurst's Beans. I am a huge supporter of USA family owned and operated companies and Hurst's just so happens to be just that….family owned and operated since 1938.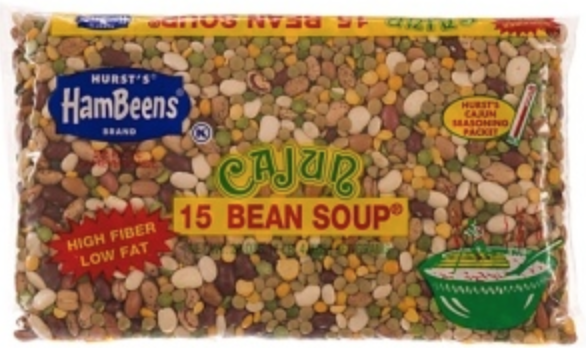 Pre-roasting
Just look at all of those vibrant colors!
Be sure to visit Hurst's Beans on Facebook, Twitter, Pinterest, Flickr and YouTube.
---
Cajun Roasted Chicken and Vegetable 15 Bean Soup
Prep time:
Cook time:
Total time:
Ingredients
1 package Hurst's Cajun 15 Bean Soup, rinsed
4 Garlic Cloves, minced
3 carrots, chopped into bite sized pieces
2 Zucchini, chopped into bite sized pieces
1 large Red Onion, chopped into bite sized pieces
1 pint Cherry Tomatoes
1½ lb. Boneless Chicken Breasts
1 teaspoon Coarse Kosher Salt
1 teaspoon Onion Powder
½ teaspoon Garlic Powder
¼ teaspoon Chili Powder
¼ teaspoon Pepper
2 tablespoons + 1 teaspoon Extra Virgin Olive Oil
1 6oz. bag baby Spinach
Instructions
Place beans in a Large bowl, cover with 2 quarts water. Allow to soak overnight, or at least 8 hours. Rinse.
Place rinsed beans in large stock pot, cover with 2 quarts water.
Bring to boil.
Reduce heat, partially cover and simmer for 2½ hours.
Preheat over to 400.
Meanwhile, in a small bowl, mix together salt, onion powder, garlic powder, chili powder and pepper; set aside.
Line a large rimmed baking sheet with parchment paper or foil.
In a large bowl, toss together garlic, carrots, zucchini, onion and tomatoes with half the spice mixture and 2 tablespoons olive oil. Pour onto baking sheet.
Cover chicken breasts with remaining 1 teaspoon olive oil and remaining spice mixture and place on baking sheet with vegetables.
Bake 40 minutes. Remove and shred chicken.
After beans have been cooking 2½ hours, add shredded chicken, roasted vegetables and cajun seasoning packed.
Cook on low for an additional 30 minutes.
Add spinach during last 5 minutes of cooking.
Season with additional salt and pepper if desired
Don't forget to visit my other recipes I developed for the fine folks at Hurst's Beans
Split Pea Soup with Ham and Bacon
**I was compensated by Hurst's Bean Company for recipe development, however all opinions are 100% mine.**