Oh hi. Remember me? Leslie, the girl who posts yummy recipes on this site? You see, I have a bit of "recipe mojo loss disorder". It's a real disorder, at least it is in my mind.
It all started when we got an offer on our house, I didn't sleep for weeks… 4 hours the most at night. I was a walking Zombie. Keep in mind, I require 8-9 hours a sleep a night, so I was obviously a wreck.

I told my husband I thought I was going crazy, like certifiably crazy. I was hearing voices in my head and they were constantly yelling at each other. It was the strangest thing I had ever experienced.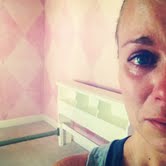 Then we sold our house and I was an absolute mess. Never in a million years I thought I would have been so emotional about packing. Lord, talk about a sobbing mess. Not only was I moving away from my best friend and my daughter best friend who lived a couple houses down, I was leaving the house with so many memories. The house we built from the ground up, the house I came home a married woman to, the house that I brought my babies home from the hospital to. So so soooo many memories, we were leaving them all behind. I eventually got over it and am fine now, but have yet to find my mojo.
We moved into a small apartment while we build our next home…God help me if it takes more than 9 months.  I have realized I am not one for apartment living, not that there is anything wrong with it, but when you have a 2 year old that lives above you and likes to skip, hop and jump around at 6 am on Saturday and Sunday mornings, you get over it REAL FAST. So I hope I get my creativity back very soon. I would like to claim that I made these Deviled Eggs recently, but nope, made them for July 4th. Everyone need a good Deviled Egg Recipe. Me I like them simple with no fancy schmancy ingredients. and NO NO NO relish. We can't be friends if you pit relish in your deviled eggs. period. end.of.story
---
Deviled Eggs
Author:
Leslie Green - The Hungry Housewife
Prep time:
Cook time:
Total time:
Classic Deviled Eggs
Ingredients
18 Eggs, hard boiled
¾ cup real Mayonnaise
½ Tablespoon Yellow Mustard
¼ teaspoon Garlic Powder
½ teaspoon Kosher salt
Splash Worcestershire Sauce
Paprika for garnish
Instructions
Slice the eggs in half, lengthwise.
Remove the yolks and place in a small bowl.
Add the mayonnaise, mustard, garlic powder, salt and worcestershire sauce to the egg yolks and mix until smooth with a spoon in a hand blender.
Add the egg yolk mixture to a piping bag or a sturdy zip lock bag, sip one corner and pipe into the egg white halves.
Sprinkle with paprika.