Oddly, I get the same question often, "What is the best blender to get?"
I usually answer with, "Well, depends on how much you want to spend."
People are watching their pennies these days and don't want to spend the $500-$700 for the 2 Blenders that claim to be the best.
Well guess what?
Now,there is a new Powerhouse Blender in town for half the price and it comes from Oster®, which happens to be the most trusted blender brand since 1926.
Welcome the Oster® Versa Performance Blender.


Before I get into the specifics, this blender would make an awesome Mother's Day gift. For a limited time if you purchase this beautiful blender, you will get a $50 Walmart Gift Card. Click here to purchase.
The new Oster® Versa Performance Blender can blend anything from soup to nuts.
It's truly a powerhouse.
Let's take a look at this beauty.
Packed all cozy in it's box, just waiting to unleash it's power.
It's a substancial size. I put a regular sized pineapple next to it for a size comparison.
The 64oz. jar is very sturdy and thick. Believe me you don't want a glass blender jar. I have broken at least 2 in my day.
There are just enough settings. In my opinion, some blenders go overboard with all their settings.
The turn dial, is purely for speed. The touch button are preprogramed for time and speed…you have pulse, smoothie, soup and dips/spreads.
There are 6 blades that blend everything….they even blend ice PERFECTLY. Those 6 little steel blades go over 250 MPH and with its 1400 watt motor, so theres really nothing this blender cant handle.
Another thing I love about the Oster® Versa Performance Blender is it comes with a Tamper Wand. Can you say genius?!?!?! It lets you push items into your blender if they need a little help getting down to the blade.
Have you ever had your lid fly off during blending? Not fun.
Or do you have to sit there and hold your lid onto you blender when you blend?
Not with this lid, when you put it on, it's not coming off until YOU take it off, so you can press smoothie on the blender and WALK AWAY without having to worry about having smoothie on your ceiling!
I was very impressed with the thick stainless steel housing for the blades.
I put the blender to the test with my favorite smoothie recipe…
About 4 large strawberries, large handfull blueberries, large handfull baby spinach, 1 cup unsweetened Vanilla Almond Milk and about a cup of ice.
One tip with ALLLLLL blenders, if you are using ice, ALWAYS ALWAYS put it in last!
A perfectly SMOOTH smoothie.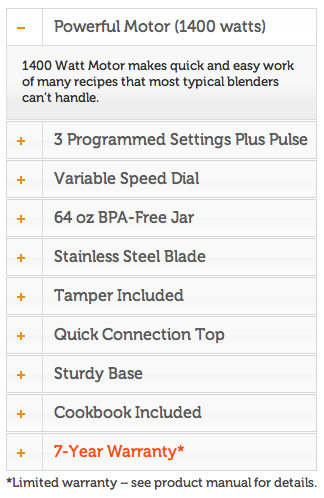 ---
GIVEAWAY  ******GIVEAWAY CLOSED*****
One winner will win
Oster Versa Performance Blender
Contest ends Wednesday May 15 th 9 am EST
Winner will be chosen by Random Org.com
Open to US residents Only
Main Entry
(Required)
1.) What would you make first if you won this blender?
(For EACH additional entry, you must leave a SEPARATE comment for EACH ADDITIONAL entry,extra entries not required)
2.) Like THE HUNGRY HOUSEWIFE on Facebook
3.) Follow THE HUNGRY HOUSEWIFE on twitter
4.) Tweet using this..Go visit http://tinyurl.com/cxkp42x for a $300 Oster® Versa Performance Blender GIVEAWAY from @hungryhousewife
5.) Post about this giveaway on your Facebook Page using this tag http://tinyurl.com/cxkp42x
6.) Subscribe to THE HUNGRY HOUSEWIFE via email.
Disclaimer: This post is sponsored by Lunchbox. All opinions are my own.
---