Please please please tell me you have had shrimp and grits.
It is a Southern dish, but it need not be.
Shrimp, cheesy grits and bacon might not sound like they all get along, but I am here to tell you that they are indeed best friends forever.
I know I have mentioned it here before that I have a divided house in the seafood department.
My son and I love it and my husband and daughter do not.
In fact, my husband doesn't eat anything from the water….yeah, chew on that for a second.
Annoying, isn't it.
So I get all giddy when I actually get to cook crustaceans.
I'm sad to say that this is my last recipe in the Weeknight Wins by Sauté Express® Sauté Starter Blogger Challenge from Land O' Lakes. Be sure to check out my first 3 recipes, here, here and here.  Myself and 4 other food bloggers have been posting about super easy weeknight meals. Don't forget to go to our PINTEREST BOARD and pin your favorite recipe each week. As a bonus, each week there will be a new giveaway.
This weeks challenge was to "Express Myself".
I remember eating shrimp and grits for the fist time in a little restaurant in Savannah Georgia and falling in love.
You will see lots and lots of shrimp and grits recipes in the deep dark hole we call the internet and you will also notice that they use many different spices.
I thought this challenge was perfect to showcase the ease and simplicity of the Sauté Express® Sauté Starers.
There was no hunting and guessing what spices and flavoring I needed to add to my recipe. Sauté Express® Sauté Startes have everything you need in them. You get a little golden nugget of olive oil, butter,garlic and spices. Now that I think about it, these are also great for people who do not cook a lot because you don't have to purchase lot and lot of containers of spices that just end up going to waste.
Put together the ease of the Sauté Express® Sauté Starters and the quick cooking shrimp and you have dinner in 20 minutes! Thats right, 20 minutes. Just get your grits started first and then prepare everything else while they are cooking!
Giveaway
Now tell me you favorite dish you make to impress your guests for a chance to win a Sauté Express® Sauté Starter Prize Pack.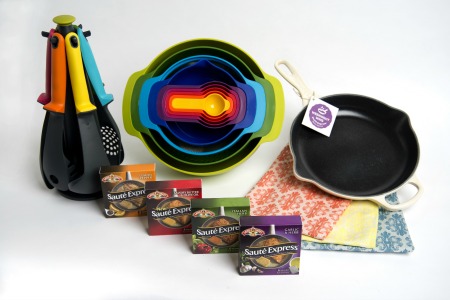 Tell me how you Express Yourself in the kitchen for a chance to win the Sauté Express® Sauté Starter Express Yourself Prize Pack. Bonus: Tell me how you would get creative and Express Yourself with a recipe using Sauté Express® Sauté Starter. *When you enter, Land O'Lakes may select your comment to feature for promotion, social media and/or other related marketing materials.
CONTEST CLOSED
Here's how to enter–> Simply leave a comment below answering one of the following questions:
How to do you express yourself in the kitchen? 

OR
What would you make with Sauté Express® Sauté Starter?
Enter The Weeknight Wins by Sauté Express® Sauté Starter Giveaway

Details
U.S. Only. One entry per person (that includes email address & IP address) per day. Required information is first & last name and valid email address. Entries obtained by mechanical or spamming mechanisms will be disqualified. One winner will be chosen at random from all of the qualified entries submitted. Giveaway ends on Friday, April 26, 2013 at 11:59 PM EST. Winner will be contacted via email supplied in the entry & will have 48 hours to respond or another winner will be chosen. Giveaway is sponsored by Land O'Lakes. The Hungry Houswife.com and the sponsor reserve the right to cancel the giveaway at any time.
Shrimp and Grits
Author:
Leslie Green - The Hungry Housewife
Recipe type:
main, dinner
Cheesy creamy grits topped with delicious shrimp
Ingredients
Cheese Grits
3 cups Chicken Stock
1 cup Skim Milk
1 cup Stone Ground Grits
¼ cup Butter
¼ teaspoon Coarse Kosher Salt
¼ teaspoon Pepper
8 oz. Extra Sharp White Cheddar Cheese, Shredded
Shrimp
8 oz. Bacon, diced
2 squares Land O' Lakes Saute Express Saute Starter, Garlic & Herb
1 lb. Peeled and Deveined Shrimp, raw
1 green onion, chopped
1 handfull Fresh Parsley, copped
Instructions
Grits
Bring the chicken stock and milk to a boil in a medium sauce pan with a lid.
Add the grits, butter,salt and pepper and bring back to a boil while stirring.
Cover and reduce heat to a low simmer and cook for 20 minutes, stirring occasionally.
Remove from heat and stir in cheese.
Bacon and Shrimp
In a medium nonstick saute pan, cook the bacon until crisp, remove and set aside.
Drain the bacon grease but do not clean or wipe the pan.
To the same pan over medium heat, add 2 Garlic & Herb Land O' Lake Sauté Express Sauté Starters.
Add the shrimp and cook for 2 minutes per side until pink.
Add cooked bacon, green onion and parsley. Toss to coat.
Serve shrimp and any sauce sauce in the pan over the grits.
Disclosure: I've partnered with Land O'Lakes for an exclusive endorsement of Sauté Express® Sauté Starter. This blog post is sponsored by Land O'Lakes. All opinions are my own.
Giveaway WINNER..