This is my third recipe in the Weeknight Wins by Sauté Express® Sauté Starter Blogger Challenge from Land O'Lakes. In case you missed my first two, you can check them out HERE and HERE. Four other food bloggers and I have been posting about super easy weeknight meals. Don't forget to go to our PINTEREST BOARD and pin your favorite recipe each week. We have fun prize packs every week too!

During this challenge, one of my missions was to let the Sauté Express® Sauté Starter shine all by itself.
I wanted to show that there is a product out there that makes cooking a breeze either for the busy family or for those new at cooking who are a bit afraid of coming up with their own flavors.
Week number three is all about One-Pan Wonders. One-pan dinners are great because they are usually quick and there is minimal clean-up, which my husband loves because I cook and he cleans! Sweet, huh?
With the use of the Sauté Express® Sauté Starters, my One-Pan Wonder is a winner.
Oh and you know what? You can have this dinner on the table for your family in under 30 minutes. You're welcome.
See the little squares in my pan? Packed in those little squares is butter, olive oil and loads and loads of spices and flavorings. Pop a couple in your pan and you never have to think what flavorings to pair together.
This dinner is not only EXTREMELY easy to make, but it tastes like I added all the spices and flavorings myself. When my husband tasted it, he said, "What else did you add to it?" I told him nothing except the Sauté Express® Sauté Starter. He honestly didn't believe me. He swore I added lemon and garlic.
Without the little magic squares, this dinner would be completely and utterly boring with no life at all.
I will say this dish had a bit of kick to it, which is good because my family loves a li'l spice.

Lemon Pepper Pork and Potatoes
Author:
Leslie Green - The Hungry Houswife
Recipe type:
Main, dinner
Prep time:
Cook time:
Total time:
Ingredients
3 squares Lemon Pepper Sauté Express® Sauté Starter, divided
1½ lbs. baby red potatoes, diced
1 medium red onion, thinly sliced
¾ cup water
¾ lb. fresh asparagus, trimmed and cut
1 lb. pork tenderloin, thinly sliced
Instructions
In a large nonstick skillet over medium heat, melt 1 Sauté Express® Sauté Starter Square, add potatoes and onions.
Cook potatoes and onions for 10 minutes, stirring occasionally.
Add water and asparagus, cover and cook for and additional 5 minutes, stirring occasionally. Remove to a plate, cover to keep warm.
Add the last 2 Sauté Express® Sauté Starter squares to the same pan.
Add the pork and cook for 3 minutes per side. Return the potato mixture to the pan, toss to coat.
Serve
Now, share your idea for a One-Pan Wonder for a chance to win the Sauté Express
®
Sauté Starter Prize Pack.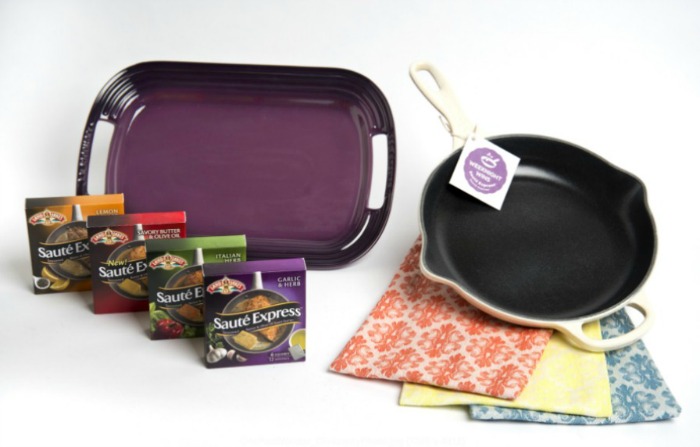 Tell me what one-pan dinner you would make using Sauté Express® Sauté Starter. Each week, in addition to your chance to win Land O'Lakes will pick a few favorites to be featured on Land O'Lakes Weeknight Meals Pinterest Board. *When you enter, Land O'Lakes may select your comment to feature for promotion, social media and/or other related marketing materials.
Here's how to enter–> Simply leave a comment below answering one of the following questions:
What is your favorite one-pan recipe?
OR
What would you make with Sauté Express® Sauté Starter? 
Enter The Weeknight Wins by Sauté Express® Sauté Starter Sweepstakes

Details
Open to legal U.S. residents 18 years and older. No purchase necessary to enter or win. One entry per person (that includes email address & IP address) per day. First & last name and valid email address are required. Entries obtained by mechanical or spamming mechanisms will be disqualified. One winner will be chosen at random from all of the qualified entries submitted. Sweepstakes ends on Friday, April 19, 2013 at 11:59 PM EST. Winner will be contacted via email supplied in the entry & will have 48 hours to respond or another winner will be chosen. Approximate retail value of prize: $150. Sweepstakes is sponsored by Land O'Lakes. The Hungry Housewife and the sponsor reserve the right to cancel the sweepstakes at any time. Contact The Hungry Housewife for winner list or with any questions. By participating in this Sweepstakes, you agree to be bound by these rules and the decisions of the Sponsors, which shall be final. All federal, state, and local laws apply; void where prohibited.
Disclosure: I've partnered with Land O'Lakes for an exclusive endorsement of Sauté Express® Sauté Starter. This blog post is sponsored by Land O'Lakes. All opinions are my own.
Contest winner