I am SUPER big on family dinners AT.THE.DINNER.TABLE.
Almost every night we sit down, all together to eat dinner and talk about our day.
I often hear people saying, "We barely, ever eat dinner at the same time."
People are too busy these days.
They have baseball, gymnastics, music..etc. Evryones schedules are different.
Well, we have fallen victim to that as well. Sad but true.
With my son in the biggest time sucker upper of all baseball 3-4 nights a week and my daughter in gymnastics 2 nights a week, it is becoming very difficult to get it together at mealtime.
To remedy the situation, one has to think fast on their feet. What can be thrown together QUICK and is still nutritious?
Pizza is ALWAYS a family favorite.
Oh and you know what else I found out?
Pizza sauce is overrated!
For my pizza sauce, I used Manwich Bold Sloppy Joe Sauce and also threw a little bit of sauce in the ground beef.
My peeps, went bonkers over this pizza. My husband said it tasted like BBQ pizza, but better.
You know that Manwich has that kid-stopping power, that you know they will love. And when they love the food you prepare, you all can have a nice civilized dinner together with out the normal, "I don't wanna eat this" dinner!!!
What I found by using the Manwich Sloppy Joe Sauce, is that I didn't have to add an extra spices to the meat or sauce.
Manwich is bursting with flavor, so that made my dinner even easier!
To also save a bunch of time, I used a Thin Flatbread Naan Pizza Dough, it's my fav.
Got "A Case of the Mandays?"
I prescribe Sloppy Joe Pizza!!
Also, join me tonight for a fun Twitter Party with @ResourcefulMom and @HowToBeaDad 
We will be chatting about weeknight meals. #manwich
There will be fun prizes too.
Head on over HERE to RSVP.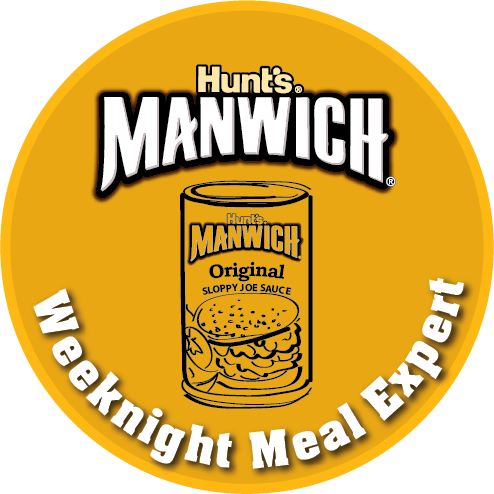 Sloppy Joe Pizza
Author:
Leslie Green - The Hungry Housewife
Recipe type:
Dinner, pizza
Prep time:
Cook time:
Total time:
A quick and easy weeknight pizza using Manwich Sloppy Joe sauce as the pizza sauce.
Ingredients
1 12" pizza crust
⅓ cup + 2 tablespoons Manwich Bold Sloppy Joe Sauce, divided
½ lb ground beef
¼ small red onion, thinly sliced
½ small green pepper, thinly sliced
1½ cup mozzarella cheese, shredded
¼ cup sharp cheddar cheese, shredded
Instructions
Preheat oven to pizza crust directions
In a small skillet, brown ground beef and drain.
Stir in 2 tablespoons Manwich Bold Sloppy Joe Sauce, set aside.
Spread ⅓ cup Manwich Bold Sloppy Joe Sauce over pizza crust.
Top with mozzarella cheese,cheddar cheese,ground beef, red onion and green pepper.
Bake per pizza crust directions
**I was compensated for recipe development, however all opinions are mine**