I think we are allll so commercialized, don't you think?
We purchase things because we see commercials or see the products in the big box stores.
Very rarely, do we think outside of "the box" so to speak.
I have had them same cookware since I got married 12 years ago.
How did I come to putting it on my registry? Yep, it was at the store. And it was what I had to choose from.
Well, wouldn't you know, BlueStar contacted me to review their 8 piece Cookware. Click HERE to see BlueStar Cookware
I knew they made ranges, but had nooooo clue they made cookware.
And they make beautiful cookware….
They sure are pretty, dontcha' think?
The handles are comfortable and riveted to the pan itself. No silly screws
MADE IN THE USA!
Ideal for any cooking surface.
DISHWASHER safe! Yes, you heard me correct! DISHWASHER.SAFE
Try-Ply Construction for superior and consistent heat.
Oven safe for 500°

When I first got these, I kept my other cookware, just in case I didn't like the pans.
I didn't just like these pans, I loved them.
My old pans have now found their home in the garage sale pile.
As I get wiser and older, I have become a big researcher.
I research, everything I buy.
Being an educated consumer is a good thing.
My husband and I are in the process of designing our new home, and the kitchen is a HUGE deal to me.
Everything needs to be perfect.
A new kitchen means new appliances.
I have spent hours and hours researching appliance brands…
There are the big appliance brands you see in alllllllll the stores and then the ones that don't do much advertising.
BlueStar is one of the ranges I am considering…I have read many boards online on how they make the Best Stove/Oven and that the burner ROCK!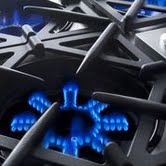 Look how beautiful This Red Stove is
BlueStar Ranges are available in 190 colors and endless configurations.
I am also very intrigued by their broiler too, which they say is the Best Broiler!
So if you are in the market for some new cookware, I hope you consider BlueStar Cookware.
They are rockin' my kitchen.
And only time will tell, if BlueStar makes it's way into my home as my cooking appliances.
Disclosure: I received cookware from BlueStar for review. All opinions are 100% mine