Who doesn't love a Crock-Pot??
Crazy people, that's who.
You know what a Crock-Pot is to me?
A life saver.
Seriously, we have some sort of activity 4-5 nights a week with baseball or gymnastics, so the fact that I can throw something in the Crock-Pot in the morning and have it ready when I get home is just heavenly.
Take this chicken, It's cheap, serves my whole family, it's delicious and I did it in the Crock-Pot.
Chicken, onions, garlic, butter herbs and chicken stock and YOUR DONE!
Sweet,huh?
Crock-Pot also has some great recipes on their site. Go check them out for dinner ideas!
Also, their Crock-Stars Contest is Closed for entries, but starting on November 12th, you can go here and vote for your favorite!
Before Crock-Pot sent me this shiny new Crock-Pot, I had a different slow cooker, it was expensive..like ridiculously expensive, it rhymes with Nall-Flad. Well you know what, the ceramic liner cracked..just like the on-line reviews said. grrrrrrr.
Well the Crock-Pot has sooooo many glorious features that my previous one didnt have.
A read-out for Travel Temperature.
A locking lid for Travel.
"Warm" stays on for a long time after the cooking time!
Whole Chicken in a Crock-Pot & Giveaway
Author:
Leslie Green - The Hungry Housewife
Recipe type:
dinner,slow cooker
Prep time:
Cook time:
Total time:
A Whole Chicken cooked in a Crock-Pot.
Ingredients
1 5lb. Whole Chicken
1 large Onion, sliced
3 Garlic cloves
1 cup Chicken Stock
3 tbsp Butter,room temperature
1 tablespoon Fresh Rosemary, finly chopped
6 Fresh Sage Leaves, about 1 tablespoon
1 teaspoon Thyme
1 tablespoon Coarse Kosher Salt
¼ teaspoon Pepper
Instructions
Place the onions,garlic and chicken stock into the Crock-Pot.
Remove chicken from package and remove giblet bag.
Place the contents of the giblet bag into the Crock-Pot.(this will add flavor to the stock)
Rinse and dry the chicken.
In a small bowl, mix together the butter,rosemary,sage,thyme,salt and pepper.
Rub the entire chicken(concentrating on the top/breast side) with the butter herb mixture.
Place chicken into the Crock-Pot and cook on high for 4 hours.
Remove the chicken and let rest for 10 minutes prior to cutting.
Remove the onions and serve on the side if desired.
Strain the juice the accumulated in the Crock-Pot into a large bowl and reserve the stock
Crock-Pot loves me and they love you too, because they want to give one of you a NEW CROCK-POT!!!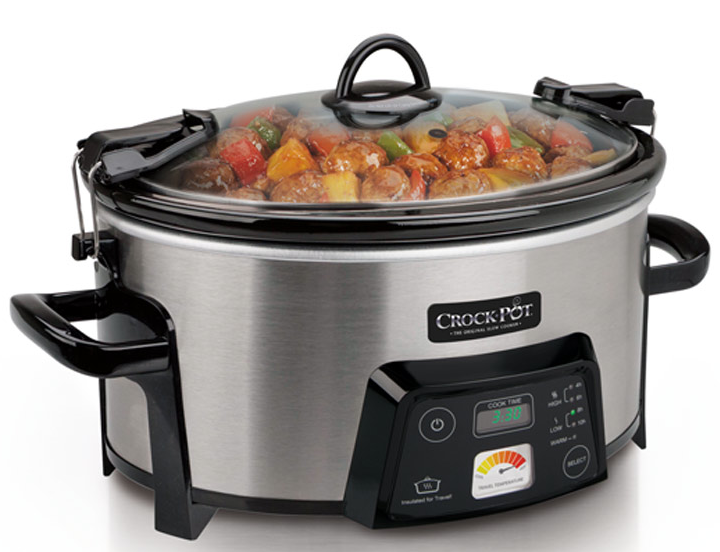 One winner will win the following
A Crock-Pot!
GIVEAWAY RULES  ************CONTEST CLOSED***************
Contest ends Monday November 12, 2012 9 pm EST
Winner will be chosen by Random Org.com
Contest open to US residents only.
Main Entry
(Required)
1.) Do you cook with a Slow Cooker?
(For EACH additional entry, you must leave a SEPARATE comment for EACH ADDITIONAL entry)
2.) Like THE HUNGRY HOUSEWIFE on Facebook
3.) Follow THE HUNGRY HOUSEWIFE on Twitter
4.) Tweet using this..Go visit @HungryHousewife for a Crock-Pot GIVEAWAY http://tinyurl.com/af7t3jq
5.) Post about this giveaway on your Facebook Page using this tag http://tinyurl.com/af7t3jq
6.) Subscribe to THE HUNGRY HOUSEWIFE via email.
7.) Like Crock-Pot on Facebook
And there you have it, a total of 7 entries for you.
*I was provided with a Crock-Pot, all opinions are mine, all mine!*