I hope everyone had a fabulous Thanksgiving.
Like every year my kids love to help, so I put them to work and had them peel 15 pounds of potatoes.
Child labor laws..whaaa?
Again, I ate too much and could barely get my rings off that night. Like everyone else, I had left over desserts. Every time I walked by them, I would take a spoonful. NOT GOOD. Gluttony is my middle name. Unfortunately, I had to throw them down the garbage disposal. The trash can isn't good enough for me....remember
this
? 2 days later I needed a dessert. A quick one. I needed a dessert that I could just fancy up. Some grilled pound cake was in order, topped with delicious
Smucker's Spoonable toppings.
They make dressing up dessert simple. They are easy and delicious.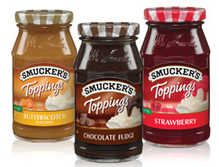 Slather some pound cake with some butter, grill and top with some sweetened ricotta and Smucker's Spoonable Strawberry and Hot Fudge Sauce.
Grilled Pound Cake with Strawberry Sauce & Ricotta Cream & Giveaway
Author:
Leslie Green - The Hungry Housewife
Prep time:
Cook time:
Total time:
Ingredients
1¼ cups Ricotta Cheese
½ cup Powdered Sugar
2 tablespoons Heavy Cream
1 teaspoon Vanilla Extract
1 (11.5oz) Frozen Pound cake, thawed, cut into 6 (1¼" slices)
3 tablespoons butter, softened
1 (10 oz.) jar Smucker's Spoonable Strawberry Topping
⅓ cup Smucker's Spoonable Hot Fudge Sauce
Instructions
Preheat grill, panini press, or grill pan.
Mix together ricotta,powdered sugar,heavy cream and vanilla extract until smooth.
Spread a thin layer of butter on both sides of the pound cake slices.
Grill the pound cake until lightly browned on both sides, about 2 minutes per side.
In two separate small bowls, heat the strawberry and hot fudge sauce for about 25 seconds.
Place the grilled pound cake on a plate, top with ricotta, strawberry and fudge topping.
GIVEAWAY *********CONTEST CLOSED***********
One winner will win
One $100 American Express Gift Card
Smucker's Spoonable Strawberry Topping
Smucker's Spoonable Blueberry Topping
Smucker's Hot Carmel Microwave Topping
Smucker's Spoonable Hot Fudge Topping
GIVEAWAY RULES
Contest ends CONTEST CLOSED
Winner will be chosen by Random Org.com
Contest open to US residents only.
Main Entry
(Required)
1.) Do you have any Holiday Traditions?
(For EACH additional entry, you must leave a SEPARATE comment for EACH ADDITIONAL entry)
2.) Like THE HUNGRY HOUSEWIFE on Facebook
3.) Follow THE HUNGRY HOUSEWIFE on Twitter
4.) Tweet using this..Go visit  http://tinyurl.com/cgykxzq @HungryHousewife for a Smucker's & 100 AMEX gift card GIVEAWAY
5.) Post about this giveaway on your Facebook Page using this tag http://tinyurl.com/cgykxzq
6.) Subscribe to THE HUNGRY HOUSEWIFE via email.
7.) Like Smucker's on Facebook
And there you have it, a total of 7 entries for you.
**I received a gift bag as thank you fro writing this post, however all opinions are mine**
And the winner of My Libby's Giveaway is