So these are supposed to look like ghosts.
Humor me, k?
It's all I got for Halloween. Does that make me a bad recipe website?
So be it.
I'm o.k with it.
These are meringue type cookies without the Cream of Tartar.
I'm not big on Meringue cookies, but these are quite tasty.
Light as air and oh so tasty. They were gobbled right up.
Author:
Leslie Green - The Hungry Housewife
Recipe type:
Dessert,cookie
Ingredients
2 Egg Whites
¾ cup White Sugar
1½ teaspoon Clear Vanilla Extract
⅛ teaspoon Table Salt
1 cup Mini Chocolate Chips (or 1 cup regular size chocolate chips)
Instructions
Preheat oven to 400.
Line a cookie sheet with parchment paper.
In a medium bowl, beat the egg whites with an electric mixer on high speed until frothy.
Add the sugar a little bit at a time, beating the entire time until the mixture has become stiff, about 5 minutes.
Beat in vanilla and salt.
Fold in chocolate chips.
Place the mixture into a gallon zip lock bag, cut the corner and pipe into your desired shape onto the prepared cookie sheet.
If making ghosts, place mini chocolate chips on the piped cookie for the eyes and mouth.
Place in the oven.
TURN OFF THE HEAT
And allow the cookie to sit in the oven for at least 4 hours.
Remove and store at room temperature
And the winner of my McCormick Giveaway is……..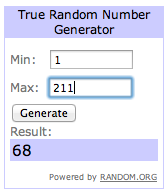 Please contact me within 48 hours to claim your prize!!!