Don't look at this pizza for one second and think my kids ate this.
They did not.
Boring kids that they are, they got cheese.
Friday night is homemade pizza night at our house.
Those kids of mine get cheese, but I always mix it up for the mans and I.
Ok, we all get that I'm weird…a bit off…so I'm just gonna come out and say it…..
I don't like red sauce on my pizza.
I mean, sure I'll eat it and all..I'll eat anything you put in-font of me.  But I prefer a white pizza.
Mix up a ricotta mixture with some spices and olive oil, slather it on the crust, top with random things..mmmmmm.
Also, I'm not a big Italian Sausage person either.  ewww.
Well, Johnsonville sent me some coupons for their new Chicken Sausage.
I had the 3 Cheese Italian Sausage.
Ohhh, lord have mercy it was good. Like super good.
I only cooked one to slice and put on my pizza. But after I tasted it, I cooked up two more so the hubby and I could munch on them while the pizzas were cooking.
I have been cheating lately and using Flatbread Pizza Crust. My fav is Stonefire.
If you have a good recipe using Johnsonville Sausage, go enter it into their Classic Cookoff Contest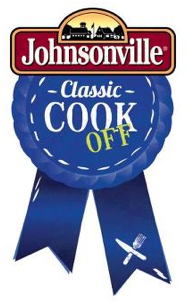 Easy White Pizza with Sausage
Author:
Leslie Green - The Hungry Housewife
Prep time:
Cook time:
Total time:
An easy white homemade pizza.
Ingredients
1 Thin Pizza Crust
2 teaspoons Extra Virgin Olive Oil
¾ cup Ricotta Cheese
¼ teaspoon Coarse Kosher Salt
¼ teaspoon Pepper
¼ teaspoon Dried Rosemary
8 oz block Mozzarella Cheese, shredded
2 Roma Tomatoes, sliced thin
¼ Small Red Onion, sliced thin
1 Johnsonville Italian 3 Cheese Chicken Sausage, cooked and sliced
6 Basil Leaves, chopped
Instructions
Preheat oven to 400.
Place the pizza crust on a baking sheet.
Brush with olive oil.
In a bowl, mix together ricotta, salt, pepper and rosemary.
Spread ricotta mixture over pizza crust.
Top with mozzarella cheese,tomatoes,onion,sausage and basil.
Bake for 10-12 minutes or until the cheese is melted and bottom of crust is crispy.