Happy International Bacon Day..like the best holiday ever.
I actually think bacon needs a whole month of dedication.
You can't get much more versatile than bacon.
I prefer it Straight Up. Extra Crispy.
I remember back in High School I would cook a pound of bacon and eat it in one sitting.
True story.
Back to the tasty and easy appetizers.
Cook up some bacon, broil some tomatoes and shallots, spread some Sainte Andre Cheese on some crusty bread..and you've got yourself one tasty bite!
I think these beauties need a close up.
Bacon and Tomato Crostinis
Author:
Leslie Green - The Hungry Housewife
A quick and easy appetizer.
Ingredients
12 1" slices French Bread, about ¾ of a 9oz. loaf
1 pint Cherry Tomatoes
⅛ cup + 1 tablespoon Extra Virgin Olive Oil, divided
1 teaspoon Balsamic Glaze
1 Shallot Bulb, minced
¼ teaspoon Pepper
½ teaspoon Coarse Kosher Salt
7 oz. Sainte Andre Cheese, at room temperature
8 oz. Smithfield Bacon, cooked and crumbled
Instructions
Adjust your oven rack to the top, directly under the broiler.
Heat your oven to broil.
Line a baking sheet with aluminum foil
In a medium bowl, mix together tomatoes, 1 tablespoon extra virgin olive oil,balsamic glaze, salt and pepper.
Place the tomatoes onto the baking sheet.
Broil for 8-10 minutes or until the tomatoes begin to blister and pop. Stir every couple minutes.
Change your oven to bake at 350.
Place the bread onto a baking sheet.
Brush the bread with the remaining ⅛ cup olive oil.
Place in the oven and bake for about 5 minutes or until crusty.
While the bread is still warm, spread 1 teaspoon of Sainte Andre cheese on each slice.
Evenly distribute the tomato mixture over the bread slices and top with bacon.
Notes
Makes 12 slices.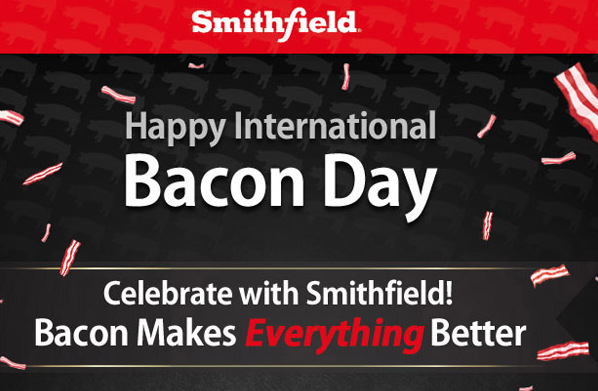 In celebration of International Bacon Day, Smithfield Bacon would like to offer one of my readers a fun prize pack
One reader will win
A Smithfield Bacon Cooler
Smithfield Pouch Pack Bacon
Smithfield Hometown Bacon
I Love Bacon Koozie
$50 in Smithfield Coupons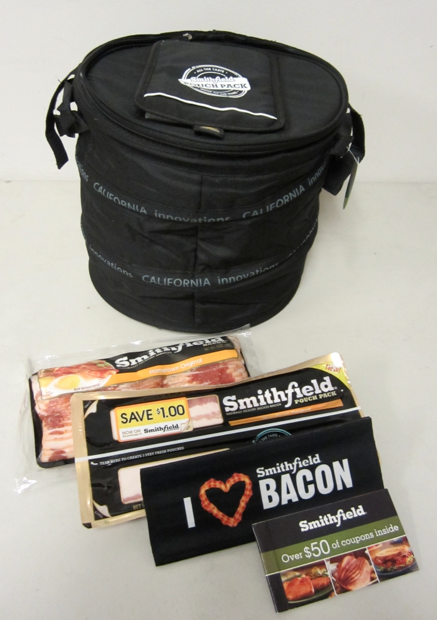 Contest Rules
*******************CONTEST CLOSED*************************
Winner will be chosen by Random Org.com on Wednesday September 12, 2012 at 9 am EST
Contest open to US residents ONLY
Main Entry
(Required)
1.) How do you like your bacon cooked? Regular or crispy?
(For EACH additional entry, you must leave a SEPARATE comment for EACH ADDITIONAL entry)
2.) Like THE HUNGRY HOUSEWIFE on Facebook
3.) Follow THE HUNGRY HOUSEWIFE on twitter
4.) Tweet using this..Go visit @HungryHousewife for a Smithfield Bacon GIVEAWAY http://tinyurl.com/c85ddnf
5.) Post about this giveaway on your Facebook Page using this tag http://tinyurl.com/c85ddnf
6.) Subscribe to THE HUNGRY HOUSEWIFE via email.
7.) Like Smithfield on Facebook
And there you have it, a total of 7 entries for you.
Also, stop by Smithfields Facebook page for a nice little coupon!
Annnnddddd, since It's International Bacon Day, I thought I would share some bacon inspired things.
Bacon Air Freshener
Bacon Band-Aids
Bacon Lip Balm
Bacon Tube Socks
Bacon Gift Wrap
Bacon Chocolate Bar
Bacon Neck Tie
Bacon Jam
Bacon Chemistry Shirt
Footloose  (oh come on, now thats funny)
Bacon iPhone Case 
Bacon Bumper Sticker