Warning…..
Zero Food Styling here folks….Zero
What you see is what you get.
Straight off the grill.
Kids were in the pool..it was hot outside grilling and all I wanted to do was eat.
See not pretty, but they sure were tasty.
Kabobs are the ultimate grilling food. It's a dinner all on 1 stick.
I was just missing some carbs. I bet some baby potatoes would be pretty tasty.
I threw these together based on what I had in the house and for the protein I used Johnsonville Beer Brats.
Have you had them? Oh myyyy, they are bursting with flavor. So yum.
Not much of a recipe here. I did want to add a little zing to the veggies. So I tossed them in some Italian dressing for 15 or so minutes.
Because of my utter laziness and lack of creativity, these are certainly not going to win me the James Beard award or anything nor will they win me the Johnsonville Kabob Creations Contest but they won over my taste buds!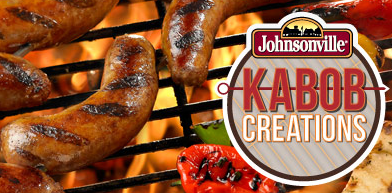 Do you have a tantalizing Kabob recipe? Hurry up and enter the Johnsonville Kabob Creations contest for your chance at winning one of two large Big Green Egg grill packages and a years supply of Johnsonville Sausage!!!
Pretty sweet. I sooooooooo am dying for a Big Green Egg! To enter and read all about the contest click here. 

Author:
Leslie Green - The Hungry Housewife
Prep time:
Cook time:
Total time:
Grilled Sausage Kabobs
Ingredients
4 Johnsonville Beer Brats, cut into ½ pieces
½ cup Italian Dressing
1 large Zucchini, sliced into thick slices
12 Cherry Tomatoes
1 Green Pepper, sliced into thick slices
1 Yellow Pepper, sliced into thick slices
1 Large Onion, cut into 8ths
Instructions
Preheat grill to medium.
Place chopped vegetables into medium bowl and toss with salad dressing.
Allow the vegetables to marinate for 15 minutes or up to a few hours.
Skewer all ingredients onto 4 BBQ skewers.
Grill for about 15 minutes turning every few minutes.