I am not quite sure if I can even say I have a sister anymore.
She, "sister", comes over today when I was developing this recipe and saw the new Jif Chocolate Hazelnut spread on the counter and said, "Is this like Nutella or something?"
I said, "Yeah, it's delicious, taste it."
With a turned up lip she said, "I have never even had Nutella."
Me, "We are not sisters anymore."
She's dead to me.
Anyway, now that I am an only child that means more S'mores Milk Shake for me.
Jif came out with 2 new products Jif Chocolate Hazelnut Spread and Jif Mocha Cappuccino Hazelnut spread. They are mighty tasty and a bit dangerous since you will want to stick your whole face in the jar!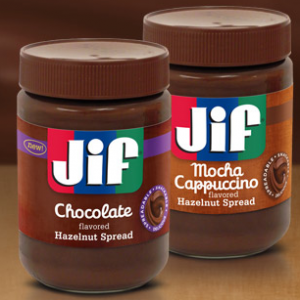 That other chocolate hazelnut spread company has held the reigns for long enough in the Chocolate Hazelnut spread arena, dont'cha think? Jif is gonna give them a run for their money!
I think toasting the marshmallows is a must with this recipe. I used fancy gourmet marshmallows, but I am sure Jet-Puff will do just fine.
I used my kitchen torch to toast the outsides, slid them onto a plate and "smooshed" then around until the un-toasted parts were exposed and torched those as well. I did this several times until all the everything was nicely browned.
My Blendtec blender was very happy with the recipe!

Author:
Leslie Green - The Hungry Housewife
Recipe type:
Dessert,drink,milkshake
A creamy milkshake with toasted marshmallows, graham crackers and Jif Chocolate Hazelnut spread
Ingredients
3 cups Vanilla Ice Cream, packed
⅔ cups milk
4 large Marshmallows, toasted
2 sheets regular Graham Crackers
¼ cup Jif Chocolate Hazelnut Spread
Instructions
Place the milk in a blender.
Add the ice cream.
Mix in blender until smooth.
Add the marshmallows(these will obviously be very sticky), graham crackers and Jif Hazelnut Spread.
Pulse several times until the last 3 ingredients are incorporated
Notes
Makes 4 cups, enough for 2 people. This is a "eat it with a spoon" milkshake because of the graham crackers.
In celebration of the 2 new products, Jif is offering y'all a fun giveaway.
!!!!!!!!!!!!!!CONTEST CLOSED!!!!!!!!!!!!!
One of my readers will win the following
Jif Chocolate Flavored Hazelnut Spread
Jif Mocha Cappuccino Flavored Hazelnut Spread
Homemade Marshmallows
Graham Crackers
Pillsbury Chocolate Fudge Brownie Mix
Folgers Black Silk Coffee
Silver Spoon
Recipes and Tips
$50 AMEX Gift Card
(retail value $100)
Contest ends Thursday July 5th 2012 at 9 am EST.
Winner will be chosen by Random Org.com
Contest open to US residents only.
Main Entry
(Required)
1.) What is your peanut butter, creamy or chunky?
(For EACH additional entry, you must leave a SEPARATE comment for EACH ADDITIONAL entry)
2.) Like THE HUNGRY HOUSEWIFE on Facebook
3.) Follow THE HUNGRY HOUSEWIFE on Twitter
4.) Tweet using this..Go visit http://tinyurl.com/74magw3 from @HungryHousewife for a Jif Giveaway
5.) Post about this giveaway on your Facebook Page using this tag http://tinyurl.com/74magw3
6.) Subscribe to THE HUNGRY HOUSEWIFE via email.
7.) Like Jif on Facebook
And there you have it, a total of 7 entries for you.
Good Luck,
Leslie – The Hungry Housewife