***Free Moe's Southwest Grill Kids meal at bottom of post***
Isn't it sad how fast our kids grow up? It sucks actually.
When I started this site Emma was only 2..turning 3.  Actually one of my first posts here was her Sleeping Beauty Birthday Cake. That cake was the FIRST cake I had ever made. For her 4th Birthday, she requested a Little Mermaid Birthday cake.
Yes, by the time she was 4, she was requesting I make her "fancy" cakes. So much for the 1970's sheet cake with sprinkles, served still in the 9 x 13 pan.
Her 5th "Peace Sign" Birthday  cake was atrocious! I threw it together in 2 seconds. But the kids thought it was cool.
She was quite spoiled for her 6th Birthday, she got not one, but 2 Cute Cakes…one cupcake cake and one Shabby Chic rose cake.
Which brings us to her 7th birthday.
Again, the brat requested her own cake. She wanted a "messy" cake with butterflies, and roses with sliver balls in them.
She saw this cake on my pinterest board and loved it, so I drew my inspiration from it.
So that's what she got…talk about an easy cake. I didn't even have to smooth out the frosting..SCORE.
Oh, and you also get cinnamon rolls for breakfast on your birthday too.

My baby is getting so big…sniff sniff
You met her this little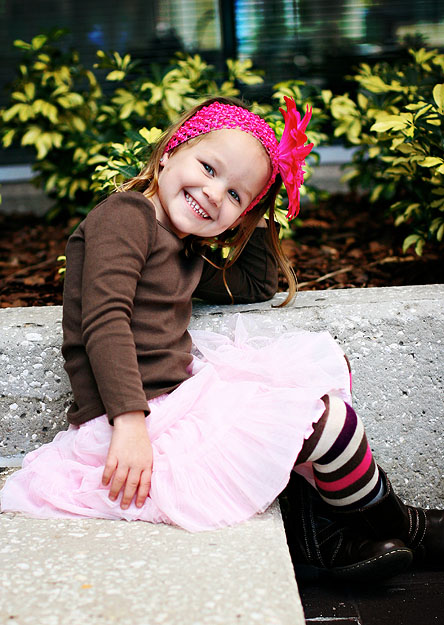 And now she is such a big girl.
My friends at Moe's catered her party. Talk about convenient and delicious. They even delivered it!

It's so nice to have a party and not have to think about getting food ready.
There was soooooo much food, so much that we had enough for my daughters AND my nephews 1st birthday party that was at my house just s few hours later.

Oh and guess what? Moe's is giving away  free kids measl to my blog readers.
You can get a coupon for a free kids meal by clicking on the image below.  Fill out your contact info and the coupon will be mailed to you! Yippee!