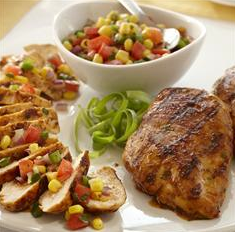 Santa Fe Chicken with Corn Salsa….this dinner is scrumptious and SUPER EASY. Forgive the lack of my own photo, but I have been so busy. Thanks to Lawry's for the photo.
I love when a dinner is tasty and can be made lickity-slipt!
Thanks to Lawry's Sante Fe Chili with Lime and Garlic 30 minute marinade, I had a tasty quick dinner that I didn't have to buy 20 different ingredients to prepare!
My kids helped prepare this dinner. Not much was involved, but they still love getting in the kitchen with me.
Click here for the recipe
Lawry's is having a fun little campaign going on right now….Dinnertising!
Click the below photo to watch mine! It's cute!
Basically, you go online and make a little advertisement for dinner that night..your kids watch it and then they get pumped for dinner! It's really adorable.
When you make yours, copy the link and enter it in my comment section for your chance at the below Lawry's Prize pack.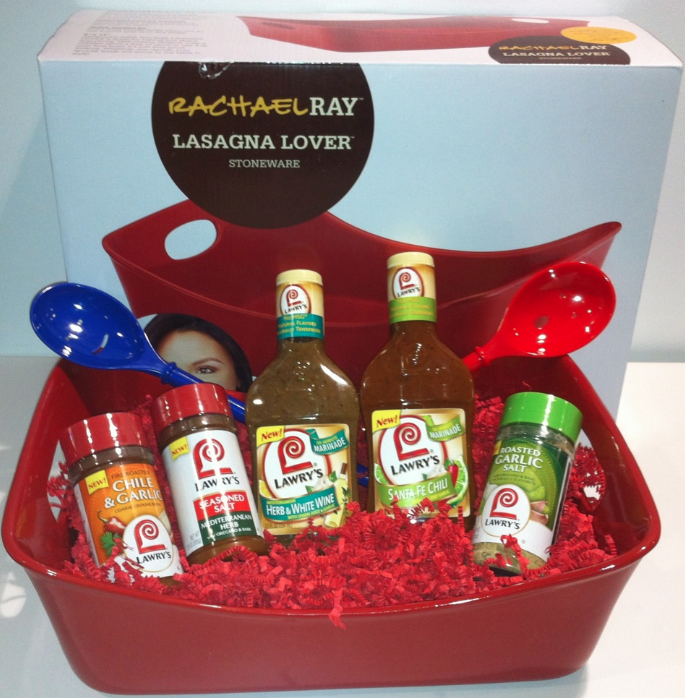 Giveaway:    CONTEST CLOSED
ENDS SUNDAY JUNE 3rd at 4 PM EST! So this is a super quick giveaway!
This giveaway is different from my normal entry format.
All you have to do is go to Dinnertising.com and make your own Dinnertisement (it takes like 2 minutes and your kids will love it) come back to my site and leave your dinnertisement link in my comment section. Sounds complicated, but it's not!
Here are step by step directions
Steps to creating a Dinnertisement:
1) Visit www.dinnertising.com
2) On the right hand side, click the sign that reads "Create Your Own Dinnertisement Now"
3) Click on the sign that reads "Choose a Recipe & Get Started!"
4) Click on the dishes to see a variety of recipes
5) Select the recipe you like best and then click the arrow that reads "Next Step"
6) Select the theme you like best and then click the arrow that reads "Next Step"
7) Upload your photo by clicking the sign that reads "Click to upload"
8) Enter your family name and click enter
9) Read the consent and click the arrow that reads "Yes, I Do Agree"
10) Watch the video and at the end of the Dinnertisement, click on the envelope to email the link to yourself.
11) Copy and paste the link to your Dinnertisement in the comments section on my blog to be entered to win the Rachael Ray Stoneware giveaway!
**I was provided with Lawry's products to create dinner**
The Hungry Housewife