Oh, date night.  Where have you gone?  After having kids, date night is pretty much a thing of the past.  It's not that my husband and I can't go out and have a fancy evening to ourselves, because we can.  You see, we actually love hanging out with our kids.
At the ages of 7 and 9, they are pretty neat little people.  We are well aware that in just a few short years, our kids will want to have nothing to do with us.  So, while they think we are still kind of cool, we choose to spend all of our time with them.  It's fun, but to be honest, I do miss nights out alone with the hubby.  No worries though; once we are embarrassing to our children, we will have all the time in the world to ourselves.
You can still have a semi-date night at home.  Or you can at least cook a fancy meal.  When I think of the words romantic, fancy and food, I think filet mignon.  Just because you read the word "fancy," that does not mean difficult.  I do not cook anything difficult.  A filet mignon is very simple to cook.  You just need a nice pan and some high heat.  Cover the filet with a scrumptious sauce, and, well, you have just put the romance meter over the top.  Easy peasy.
Kids or no kids, this meal is as romantic as it gets.  It is beautiful and the taste is amazing.  I developed this recipe for the Florida Beef Council for Florida Beef Month, which runs through the whole month of May.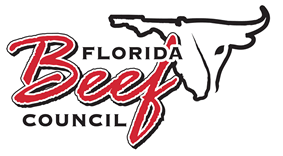 Filet Mignon with Mushroom Mascarpone Sauce
Author:
Leslie Green - The Hungry Housewife
Prep time:
Cook time:
Total time:
Date night done right with Filet Mignon covered in a elegant mushroom mascarpone sauce.
Ingredients
Filets
4 (4 oz each) filet mignons (2-2¼" thick)
1 tablespoon canola oil
Coarse kosher salt
Pepper
Sauce
1 tablespoon butter
1 tablespoon extra virgin olive oil
12 oz. Portobello mushrooms, sliced
2 shallots, chopped (1/4 cup)
2 cloves garlic, minced
½ tablespoon fresh rosemary, finely chopped
½ teaspoon fresh thyme, finely chopped
1 tablespoon flour
½ cup sherry wine
¾ cup beef broth, divided
¼ cup mascarpone cheese
Salt & pepper
Instructions
Filet
Allow the steaks to sit out at room temperature for 30 minutes.
Generously season each steak with salt and pepper.
Place a large oven-proof skillet (such as a cast iron skillet) into the oven.
Preheat the oven (with the skillet) to 500 degrees F.
Once the oven reaches 500 degrees, carefully remove the skillet and place it on the stove over medium-high heat.
Pour canola oil into the pan and swirl to coat the entire bottom of the pan.
Place the filets into the pan and cook for 4 minutes on the first side (do not move the steak around while it is cooking).
Flip the steak over and cook for another 4 minutes.
Put the skillet with the filets back into the oven and cook for another 4 minutes.
Remove from the oven, take steaks out of the skillet, place on a plate and loosely cover with foil to keep warm.
Sauce
*Cook the sauce in the same pan you cooked the steaks without washing it
Place the skillet on the stove over medium-high heat.
Deglaze the pan with ¼ cup of beef broth and scrape up any brown bits that have formed in the pan from cooking the filets.
Add the butter and olive oil.
Add the mushrooms and shallots, cook for 5 minutes, stirring occasionally.
Add the garlic, rosemary and thyme and cook for an additional 30 seconds.
Stir in flour and cook while stirring for 30 seconds.
Slowly stir in the sherry wine and remaining ½ cup beef broth.
Bring to a boil.
Reduce heat to a simmer and cook for 3-5 minutes until sauce thickens.
Stir in mascarpone cheese and cook to warm through.
Season with salt and pepper to your liking.
Spoon the sauce over the filets before serving
Notes
Recipe was developed by Leslie Green – The Hungry Housewife for The Florida Beef Council.
The Hungry Housewife