Scenario: You have out-of-town guests staying the night.  Morning time rolls around and the big breakfast decision comes into the topic of conversation.  Sure, everyone can get dressed and go out to brunch, but let's face it – no one wants to get out of their pajamas because a few too many glasses of wine were consumed the night before.  Anyways, there are always long lines at all the good breakfast joints in town.  The decision is made to stay in to eat.
Okay, now another decision must be made….. what to eat??  You have the standard pancakes, but with a crowd, you slave over the pan making four pancakes at a time.  No one can really sit down and enjoy breakfast together.
Then there are eggs.  One person likes scrambled, another likes them over easy, and another likes them with cheese.  Um, excuse me… last time I checked, a short order cook didn't live here.
So, really, it's simple.  Make a delicious breakfast skillet filled with seasoned ground beef, onions, potatoes, spinach, tomatoes and topped with a deliciously fried egg.
My recipe is easy, tasty and will be sure to satisfy your overnight guests.  I developed this recipe for The Florida Beef Council one morning in with the same situation as stated above.  Desperate times call for desperate measures.  Houseguests are always eager to be taste-testers!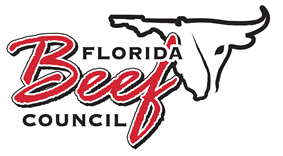 Author:
Leslie Green - The Hungry Housewife
Prep time:
Cook time:
Total time:
A tasty beefy breakfast skillet.
Ingredients
Beef
1 pound ground beef
½ teaspoon onion powder
½ teaspoon rosemary
1 teaspoon sage
1 teaspoon thyme
1 teaspoon marjoram
⅛ teaspoon ground cayenne pepper
½ teaspoon coarse kosher salt
Potatoes/Onion/Tomato/Spinach Mixture
1 large onion, roughly chopped
2 pounds potatoes, peeled and diced
2 tablespoons extra virgin olive oil, divided
1 teaspoon season salt
¼ teaspoon pepper
¼ teaspoon coarse kosher salt
1 tablespoon butter
1 cup cherry tomatoes (1/2 pint)
2 cloves garlic, minced
1 cup spinach, packed
Eggs, fried to your liking (amount depends on how many people you are serving)
Instructions
In a large skillet over medium heat, add the ground beef, onion powder, rosemary, sage, thyme, marjoram, cayenne pepper and salt.
Cook until browned, then drain and set aside.
In the same skillet, add ½ tablespoon olive oil and onions.
Cook for 5 minutes, stirring occasionally.
Remove and set aside.
In a medium bowl, mix together the diced potatoes, 1 tablespoon olive oil, season salt, pepper and kosher salt.
In the same skillet over medium heat, add 1 tablespoon butter and the remaining ½ tablespoon olive oil.
Add the potatoes in a single layer and cook for 5 minutes without stirring.
Stir and cook for an additional 3 minutes.
Add the cherry tomatoes and cook for about 3 minutes.
Add the garlic and cook for 1 additional minute.
Add the spinach and cook for about 1 minute, or until the spinach has slightly wilted.
Add the potatoes and beef back to the skillet and stir to incorporate.
Place the fried egg on top of each serving and enjoy!
Notes
Recipe was developed by Leslie Green – The Hungry Housewife for The Florida Beef Council.