"Beef. It's What's For Dinner." It became the phrase we all knew in the early 1990's. You think beef, you think that catchy slogan. Pretty genius if you ask me; great advertising.
I know when some people think beef, they think fat. This thought process couldn't be more wrong.
Did you know there are 29 cuts of lean beef? 29! If you need some help remembering what cuts are considered extra lean or lean, you can download this handy wallet card that you can carry with you to the grocery store to help you choose smart – http://www.beefitswhatsfordinner.com/leanbeef.aspx. Before I started really cooking, I had no clue what cut of beef was what, so this card would have come in very handy for me back then.
Flank steak falls under the lean cut of beef department. This makes me very, very happy because flank steak is so versatile. The flank can be found on the underside of the cow, around the abdominal muscles. It is a tougher cut of meat, so it benefits from marinating. Marinating is always fine by me because it not only tenderizes the meat, but makes it wonderfully flavorful.
A nice marinated flank steak makes the perfect addition to a salad. Not only does it add texture and body, it adds a substantial amount of protein that you need to have a balanced diet. Just 4 ounces of flank steak boasts 25 grams of protein and just 7 grams of fat. Not too shabby.
I hope you enjoy this recipe that I developed for The Florida Beef Council. My husband went back for seconds, that says a lot for a salad!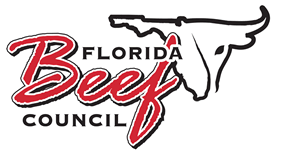 If you are in the mood for a deliciously fresh and light salad, look no further than my Asian Beef Salad with Citrus Vinaigrette. The steak is marinated in an easy homemade marinade and then quickly grilled. It is the perfect topping for a cold, crispy salad.

Asian Beef Salad with Citrus Vinaigrette
Author:
Leslie Green - The Hungry Housewife
Prep time:
Cook time:
Total time:
A wonderfully light salad with marinated and grilled Flank Steak tossed in a vibrant Citrus Vinaigrette
Ingredients
1 lb. flank steak
8 cups Spring mix lettuce
2 cups broccoli slaw
½ cup crunchy chow mein noodles
2 cups mandarin oranges
Marinade
2 garlic cloves, minced
1 tablespoon fresh ginger, finely minced
⅛ teaspoon red pepper flakes
¼ cup soy sauce
Juice of 1 lime
1 tablespoon sesame oil
Dressing
1 garlic clove, minced
½ teaspoon fresh ginger, finely minced
1 teaspoon sugar
¼ cup soy sauce
¼ cup fresh orange juice
¼ cup rice vinegar
¾ cup canola oil
¼ cup olive oil
½ tablespoon sesame oil
Instructions
Marinade
In a small bowl or measuring cup, mix together garlic, ginger, red pepper flakes, soy sauce, lime juice and sesame oil until combined.
Pour into a gallon zipper bag.
Place flank steak in bag, press air out and seal tightly.
Place in refrigerator and allow to marinate for 4-6 hours.
Dressing (Can be made a week in advance)
In a blender, add garlic, ginger, sugar, soy sauce, orange juice and rice vinegar.
Pulse several times.
With blender on, add oils in a slow stream.
Blend for 15 seconds.
Flank Steak
Preheat grill for at least 15 minutes on medium-high heat.
Remove flank steak from marinade and place on grill; discard the marinade.
Grill flank steak for 3-4 minutes per side.
Remove from grill and allow to rest for 5 minutes.
Slice the flank steak across the grain into thin strips.
Salad
Mix together spring mix and broccoli slaw.
Toss with desired amount of dressing.
Portion into 4 equal servings.
Top with chow mein noodles and mandarin oranges (about 6 oranges per salad).
Evenly divide the flank steak strips on top each salad.
Notes
Recipe was developed by Leslie Green - The Hungry Housewife for The Florida Beef Council.